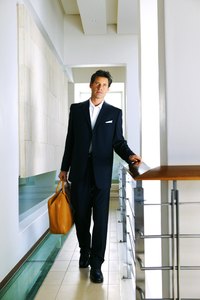 Men's suits originated as a type of formal clothing in Europe and were considered to be the trademark of a true gentleman. Today, suits are recognized as both business clothing and formal attire for men. A well-tailored suit can make a statement and reveal good taste, and a high-quality suit in a classic cut can last for several seasons or even several years.
Suits as Investments
Among all clothing items, suits are generally the most expensive and, therefore, should be thought of as investment pieces. Before buying a new suit, you should pay attention to the details and quality of the fabric and construction to ensure that your suit, both, makes a positive impression and lasts for a several years. The quality of a suit's material and construction determines how long the suit will last, as well as how good it will look during the time that it is worn. A good suit should hide any flaws, making the wearer look slim, elegant and tall. When buying a suit that you want to stay in fashion, you should look for classic cuts and styles that will look appropriate and stylish for several years to come.
What to Look For
When buying a good suit, make sure that the jacket has a full layer of canvas between the fabric and the fabric lining. Designer suits use a full layer of canvas within the jacket, while cheaper suits use only a half-canvas layer or a lining that is glued directly to the fabric. Canvas material conforms to the body over time, so that the jacket will fit even better after multiple wears. To determine if a jacket is full canvas, you can pinch the fabric between the button holes; if you feel three layers of fabric, then the jacket has a full canvas lining. When buying a suit, also check the thread count. A good thread count is 100 to 120, and this count ensures that the fabric is durable and soft. High thread count suits, such as those in the 200 thread count range, look good, but they may be more fragile and not withstand frequent wear.
How to Care For Your Suit
Once you have bought a quality suit, avoid dry cleaning it more than twice a year. To care properly for your suit, brush it after each wearing to remove small particles and dirt from the fabric fibers. Hang your jacket on a quality, shaped hanger. For best results, rotate your suits, and never wear the same suit two days in a row. When it comes time to clean your suit, be sure to use a dry cleaner with a good reputation. In between dry cleanings, consider getting spot cleans or getting your suit repressed, if necessary.
How Long Your Suit Will Last
A well-made suit in a classic cut and color will stay in style for many years. A good quality suit should last three to five years. The durability of your suit depends on how many suits you own and how frequently you wear them, as well as how well you care for your suit. If you already have a full wardrobe and want to buy a trendy suit, the style of your suit could possibly go out of fashion after only a few seasons. However, suits that are classically cut and tastefully designed can last for many, many years. After all, suits for men are always in fashion.