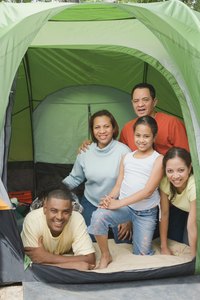 Mount Charleston, also known as Spring Mountain Recreation Area, exists as part of the Humbolt-Toiyabe National Forest (fs.usda.gov). Driving to Mount Charleston from Las Vegas takes less than an hour and grants you a reprieve from the neon lights, busy casinos and city traffic. Upon arrival, camp in one of the seven campgrounds, and take advantage of several hiking opportunities that provide magnificent views of limestone cliffs, waterfalls and glimpses of the Vegas Valley.
Mount Charleston Lodge
Mount Charleston Lodge (mtcharlestonlodge.com) provides upscale camping if you want to visit the mountains without roughing it. The lodge requires reservations in advance, and provides campers with 21 cabins from which to choose. If you plan to visit during the winter season, book one year or longer in advance by making a reservation at the lodge's reservation website. The lodge provides access to more than 50 miles of trails, and includes handicap-accessible trails, bicycle trails and extensive climbs taking you to the top of the mountain. Picnic grounds are nearby, and the climb to Cathedral Rock provides a refreshing view of a Mount Charleston and Mary Jane falls.
Campground Options
You can choose from seven campgrounds when you visit Mount Charleston. Access the McWilliams, Dolomite or Old Mill campgrounds through Lee Canyon Highway 156. Visit Mahogany Grove and Hilltop campgrounds by using Deer Creek Highway 158. Kyle Canyon Highway 157 leads you to the Fletcher View and Kyle Canyon campgrounds. The highways leading into the campgrounds contain winding roads up the mountain through forested areas and scenic views. Mahogany Grove provides options for large-group camping, and can accommodate up to 75 people and 18 vehicles per group area. Group camping spots require you to reserve well in advance.
Trail Locations
Choose a campground near the trail you want to explore. Mount Charleston offers several options with trails ranging in difficulty from light day hikes to strenuous all-day treks providing plenty of solitude. Choose Dolomite or McWilliams campgrounds to hike the 6.2-mile Bristlecone Trail. Fletcher View and Kyle Canyon campgrounds provide close access to the 1.6-mile Fletcher Canyon Trail. Mahogany Grove and Hilltop campgrounds provide close access to the strenuous 10.8-mile North Loop Trail. Extend your hike farther by combining the North Loop Trail with the South Loop, Mummy Spring or Trail Canyon trails. However, plan to use two cars, and park one car at both ends of the trail if you plan to connect the South Loop trail.
Reservations and Permits
Mount Charleston doesn't require permits or passes to access the area. During the winter months, you may need snow chains or an appropriate four-wheel-drive vehicle to access the mountain. For your safety, officials won't allow you to access the mountain without the proper equipment. Check the snow conditions before you leave by visiting the "Alerts and Notices" page for Mount Charleston. Only residents can access the mountain when officials put closures in effect. All campgrounds require you to pay a fee, and allow camping for up to 14 consecutive days in a 30-day period. Make reservations through the Recreation.gov website.