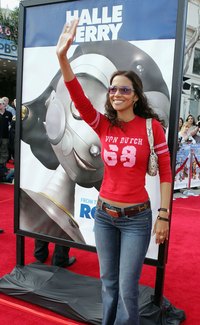 When you're wearing a pair of low-rise jeans, you have a couple significant reasons for donning a belt. First, even if your waistband is covered up with a tunic, jeans tend to stretch and fall during the day, so a belt offers functional support. And then there's the more exciting reason: low-rise jeans worn with a short or tucked top provide an ideal showcase for adding extra interest to your look, simply by adding a belt. Make your choice according to your needs and your style goals.
Skinny
Whether you're just looking for a way to keep your low-rise jeans in place throughout the day or if you prefer a more minimalistic approach to accessorizing your outfits, reach for a skinny belt. Visualize a black-and-white striped top tucked into a pair of medium blue, low-rise jeans. A skinny belt in a neutral hue, such as brown, black or taupe helps polish your look. Or, add a colorful belt in a noticeable hue, such a turquoise, for a hint of excitement. Step into some nude booties, and you're done!
Bold Print or Color
If you like to have fun with your accessories but are concerned about going overboard, amp up your style with an interesting print or a pop of color. Go with a medium-width belt for just enough attention since a wide belt in hot pink could garner too many stares. A white blouse tucked into a pair of dark blue jeans gains new life when you add a black-and-gray snake print belt or a solid, vivid fuchsia belt. Slide on a pair of black flats or pumps to complete the outfit.
Bling
For the woman who can't get enough sparkle in her life, a belt that focuses on the bling factor is where it's at. No matter your personal style, incorporating bling is simple. For example, a gray shirt and pale blue low-rise jeans receive an infusion of a rough-and-tumble Western vibe when you add a leather belt with a large, metallic, cowboy-inspired buckle. For an urban or more uptown take on this style, a metallic leather belt or one with a bejeweled buckle works wonders.
Wide Textured Belt
To truly showcase your belt, opt for a wide option. However, since the size is already over-the-top, skip bold colors and search for interesting textures, instead. Imagine you're wearing a mint-hued tank tucked loosely into a pair of distressed low-rise jeans in a black wash. A black leather woven belt with an antiqued brass buckle or a black belt with metallic thread detailing gives your look an edgy kick. A pair of black booties seals the deal.