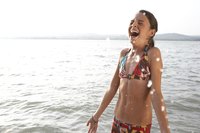 It's happened-- the day you've been dreading for years has finally come; your daughter wants a two-piece bikini swimsuit. Most mothers aren't ready to have their daughter bare all on the beach, but daughters don't want to look like old ladies. Believe it or not, there are options out there to help a mother and daughter reach a compromise. Thanks to the many styles available in junior's swimwear, moms can breathe a sigh of relief and girls can feel their age.
Accepting the Truth
First and foremost, most moms need to have a conversation with themselves realizing their daughter is no longer wearing waterproof diapers and wants to feel a little more like a woman. While she still has a ways to go before she's fully developed, it's perfectly normal for a preteen to want something that flatters what shape she does have. A two-piece bikini is a very normal desire and does exist in styles that won't over-expose her.

Tankinis
If a girl is a little bit younger and bordering the junior category, a great compromise and introduction to a bikini is a tankini. In countless colors and patterns, including wild leopard prints, stripes and bold geometric, any daughter is sure to be pleased with this midriff-concealing option. It's also ideal for young girls with fuller shapes but should be avoided if she's large-chested for her age.

Modest Bikinis
Okay, let's admit, she's old enough for a two-piece swimsuit. There are modest, age-appropriate bikinis for her. Look for styles with fuller bottoms and boy cuts to keep her covered. Tops should be thick in shape, creating large triangular shapes or straight-across bandeau style with straps. These are perfect with ruffle details and bow embellishments to help play up a juvenile aesthetic that she won't notice but will make you feel more comfortable.

Where to Draw the Line
A junior bikini should not have any strings. It should be full-coverage, with about a two-inch thickness across her hips and back. Be sure triangle-style tops have enough fabric and coverage. Something in a bustier style or with underwire and padding is a no-go, at least until high school. Remember, it's okay to say no to inappropriate styles, no matter what she tells you her friends are wearing. However, be kind and offer alternatives.