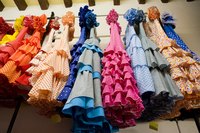 It seems everyone has that favorite, all-occasion, timeless, colorful dress in their closet. But how can it be worn without looking like the same old dress? What accessories can be chosen to highlight this staple wardrobe item? Whether it's going to a wedding, the office, a concert or a barbecue, jewelry can take it there. Jewelry can help take a dress from hum-drum to hot and keep it from looking like the same old frock.
Pearls
Any dress, whether it's basic black, cream or full of color can be highlighted with pearls. These salt and freshwater beauties are a true neutral when it comes to accessories. They also have the ability to add a sense of sophistication to any dress, making them ideal for black tie events as well as the office. Dresses with various colors are particularly accented by the crisp elegance of pearls. A necklace, earrings or a bracelet all work well.

Colorful Costume Jewels
This multicolored dress likely makes a great accompaniment to more color. Think bright when choosing jewelry and take a color from the dress and coordinate it with a necklace or bracelet in the same hue. Statement jewelry in colorful tones is on trend right now, so utilize this trend to draw attention to the bright palette of a colorful dress. With such an upbeat aesthetic, this is ideal for special occasions like weddings and barbecues.

Diamonds are a Girl's Best Friend.
Whether you're wearing shorts and a sweatshirt or an sequin-studded evening gown, diamonds are always apropos. Since there's nothing diamond jewelry won't compliment, it's a sure thing with a multi-colored dress. It will add a definite dressy factor to the ensemble, making it mostly suitable for evening occasions. When choosing diamonds to accessorize during the day, keep it simple with the concept less is more. Only earrings or just a bracelet work well to avoid looking over-done.

Other Materials
For as many colors found in a colorful dress, there are just as many materials for jewelry. Gem stones, tortoise and wood are all beautiful in accessories and shouldn't be overlooked. Chunky, wood jewelry keeps a colorful dress funky and charming while tortoise achieves a polished, preppy look. Gem stones and materials like Jade are less common while still coordinating and pulling beautiful colors out of a dress.