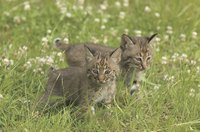 Cats roll around in the dirt as part of a grooming process, using the rough texture to remove dead skin and brush away old fur. While dirt play is a natural and generally healthy activity for your kitty, use caution with outdoor pets. Your cat can come into contact with toxic plants or yard chemicals, get into fights with other animals, wander off or get hit by a car.
Natural Stimulation
Rolling in the dirt gives Fluffy a way to stimulate nerve endings in her skin. You may see your cat rubbing herself on carpets, rugs or other texturized surfaces to get a similar effect indoors. The behavior is good for her nervous system and can help her relieve stress and anxiety in a way brushing and petting can't.
Marking Territory
Your cat likes to mark her territory by rubbing her scent glands on everything from household furniture to piles of dirt outside. This is a normal cat behavior that lets other animals know when a person, place or thing is spoken for. Rolling in the dirt not only feels pleasurable, it's also a way to let other animals know a spot is taken.
Keeping Cool
Cats like to keep cool outside, and rolling in the dirt helps them reach soft, moist soil that provides respite from heat. You may find your kitty digging in the dirt as she rolls in it to make herself a spot to curl up in and snooze. Protect your cat from extreme heat and potential heatstroke by making sure she always has access to cool resting places as well as fresh water.
Itchy Scratchy Bugs
Rolling in the dirt is one way cats loosen and remove old hair and scratch itches they can't reach through normal grooming methods. It also can be a way to try to eliminate pests. Dirt rolling can be an indication your kitty has a parasite such as fleas or an itchy skin condition such as an allergy, dermatitis or ringworm. Regularly check your cat's fur and skin for tiny bugs, patchy fur or irritated skin; see a vet if something looks abnormal.