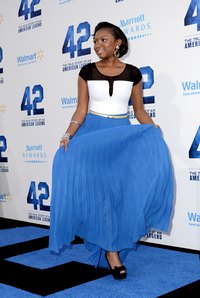 The long, flowing maxi skirt provides your life with an immediate dose of freedom. You achieve all the coverage of pants but without the constriction. However, this freedom may feel a bit trumped by a realization that you're not sure which shoes work with this free-spirited garment. Consider the wide array of options and slip into a pair of kicks that work with your plans for the day.
Clogs
Particularly during spring when the weather has not yet become hot, shoes that aren't quite sandals but don't look like heavy winter shoes are necessary. Give your maxi skirt a modern boost with a pair of clogs. They won't completely confine your feet, but you'll still look seasonally appropriate. Imagine a black-and-white striped cotton top tucked into a mint-hued maxi skirt. Slip into a pair of dark gray or black clogs and you're good to go.
Flats
When you're donning a flowing maxi skirt that nearly grazes the ground, people will rarely see your feet, if at all. This affords you the luxury of wearing some comfortable shoes without worrying about wearing a fancy pair of heels. Slip your feet into a pair of flats for the ultimate in comfort without losing your style. Visualize a lightweight, cream-hued cotton sweater that falls to your waist over a dark brown maxi skirt. A pair of nude flats will keep the focus on your ensemble and work well with other color combinations you wear in the future.
Peep-Toe Heels
Wearing a pair of pumps can often feel a bit confusing with a maxi skirt, since a pointy toe or a too-dressed-up appearance counteracts the easy, breezy nature of a maxi skirt. Instead, reach for a pair of peep-toe heels that cover most of your foot, leaving just a hint of skin exposed. If you're wearing a black blouse tucked into a dark, floral-print maxi skirt, dress your look up with a pair of metallic lace-up heels in a neutral such as gold or silver. Or, go for a heavier urban vibe with black leather stilettos.
Sandals
If your instincts have told you to wear sandals with your maxi skirt, they have served you well. The ultimate clothing piece for festivals and picnics, the maxi skirt lends itself to a comfortable, carefree appearance. When the weather is warm, consider throwing on a white racerback tank tucked loosely into a light-hued skirt in a pale shade such as gray or khaki. For pure comfort, a simple pair of flat sandals is key. However, to add height and a kick of visual interest to your outfit, slide on a pair of canvas and jute platform sandals.