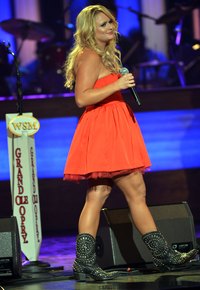 When you notice Western-wear trends are heating up and there's nothing you'd like more than to wear a pair of cowboy boots, the only problem with your new-found passion is figuring out how to style a trend-worthy outfit. Whether you prefer a laid-back look or are searching for a way to incorporate those leather kicks into a more dressed-up ensemble, this style of footwear is actually more versatile than you may have originally thought.
With Slacks and a Sweater
A simple way to wear a nicer look with a pair of cowboy boots is to replace a pair of black dress shoes with black cowboy boots. Whether you're a woman donning a pair of boldly hued slacks with a black cashmere crewneck sweater or a man wearing a pair of charcoal slacks topped with a gray V-neck sweater, adding cowboy boots to your look adds an interesting, not-so-typical point of view to your outfit. Keep your black boots shined and wear your pants draped over the boots for a Western take on classic styling.
With a Dress
Wearing cowboy boots with a dress is a super-cute way to add these otherwise tough kicks to your feminine wardrobe. To avoid looking too prairie and instead achieving a fashion-forward look, stick to dresses that fall just above the knee to several inches higher. Visualize a white cotton A-line tank dress topped with a deep-blue denim jacket. Pop your feet into a pair of brown cowboy boots for a pretty finish.
With Shorts
If you tend to be a bit daring with your style, cowboy boots certainly lend themselves to your preferences, particularly if you're fond of showing a little leg. Start with a black or white T-shirt or tank top tucked into a pair of cut-off denim shorts. Super-short to mid-thigh reveals enough skin to keep you from creating a shortened leg line. Keep in mind that distressed or faded denim works much better for this rough-and-tumble look than a pair of pristine jean shorts. Pull on some dark brown boots and you're done.
With Jeans
The easiest and most classic way to wear a pair of cowboy boots is with jeans. However, you can play around a bit by choosing different cuts. Start with a long-sleeve cotton T-shirt in a solid hue such as heather gray. Tuck your top into a pair of jeans and you're almost there. For more of a Western vibe, pull on bootcut jeans and wear them over the shaft of your boots. For an even better look at your Western-style footwear, opt for skinny jeans that you tuck into your cowboy boots. Choose the color boot that you love -- it's that easy.