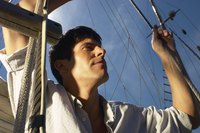 The summer months bring a host of changes to every man's wardrobe. You can finally bury the embarrassing gift sweaters, bulky jackets and heavy winter boots and wear comfortable, stylish summer apparel. Few pleasures are greater than the first time you slip into your summer boat shoes. But styles change quickly, and you may not be sure which pants go with boat shoes. Lucky for you, a variety of pants work exceptionally well with boat shoes.
Khakis and Chinos
Chinos and khakis are excellent pants options for boat shoes. When you're wearing boat shoes, you want your outfit to be casual and comfortable, but you also want modern style. If you don't know the difference between khakis and chinos, don't despair. Chino is a type of twilled fabric and is usually made from cotton. Like chinos, khakis are made from cotton, but they are not twilled. Choose a style that works well with your body type -- flat-front for lean or thin men and pleated for those with a robust build -- and a color that is both complemented by your shoes and associated with spring or summer.
Summer Pants
Summer pants include attire such as clam diggers and seersucker pants. Although clam diggers resemble women's capris, they are definitely made for men. Sometimes called three-quarter length pants, clam diggers reach the mid-calf region and are usually made from white or khaki fabric. Since boat shoes should be worn sockless, clam diggers are a great way to show off your legs without having to wear shorts. If clam diggers aren't your style, then go with any number of other summer pants that are made of comfortable fabrics like seersucker, linen, tropical wool and light cotton. Roll the legs up a few inches for an afternoon-on-the-yacht look or leave them down for more traditional style.
Denim
Denim jeans may not be the most original match for boat shoes, but they are certainly one of the most casual and comfortable. Denim isn't always the ultra-casual style that it used to be. Modern trends now enable men to wear denim in a variety of situations and with numerous ensembles. However, avoid boot cut jeans with boat shoes; boot cut jeans are made for boots, period. Avoid unflattering or unpolished styles such as baggy or wide leg jeans. Straight leg and skinny jeans, however, work well with boat shoes.
Shorts
While shorts may not always be appropriate attire for parties or venues, they are appropriate for boat shoes. Summer, like fashion, is about comfort and personal style, so feel free to dive into your favorite summer shorts. Of course, there are limitations. For example, avoid baggy or long shorts. Shorts should usually hit just above the knee. Shorts like slim-fit khakis, colorful trunks or board shorts are all laid-back, stylish modern options.