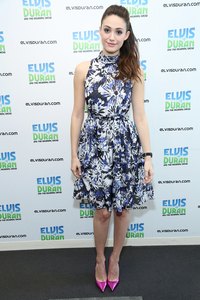 There's something so refreshing and ultra-feminine about throwing on a flowery dress. However, whether you toss on that floral number during cool or warm weather, the ultimate decision is often which shoes to add to your ensemble to best showcase your pretty frock. Never fear -- as long as you choose according to your mood and personal aesthetic, most shoes happen to play quite well with your blossom-covered dress.
Flats
You may have visions in your head that push you into believing your flowery dress must be paired with a pair of ladylike heels. While said heels are certainly an option, when you're looking for a way to maintain a feminine appearance during any season without the potential for high heel-related pain, opt for a pair of flats. Reach for a boldly hued pair in patent leather for a visually exciting kick. Remember, flats work well with tights or bare legs, so you can wear them all year long.
Boots
When you've just pulled on your long-sleeve, knee-length flowery dress in the middle of winter, your top priority in addition to looking fashionable is keeping warm. Go for a pair of knee-high boots, either suede or leather, worn over a pair of tights that blend with your dress. Because nobody can see the portion of your legs beneath your boots, adding a pair of ultra-warm socks is totally doable and you will remain toasty without having to sacrifice an ounce of style.
Pumps
Whether you're on your way to something a bit fancier or have a penchant for Sixties-style dressing, a pair of pumps worn with your flowery dress is perfect. Imagine you're wearing a black dress with a red rose print. Slip your feet into a pair of black or red stiletto pumps for a classic finish. Or, if you're wearing a lighter dress in white, cream or pastels, choose a nude or pale metallic pump for a delicate finish.
Sandals
When spring -- or summer -- has sprung and you can't wait to give your flowery dress a twirl or two in the beautiful outdoors, sandals are your best bet. Keep your feet cool while looking the part. For a super-long leg line and a more dressed-up appearance, pop on a pair of platform sandals. However, if you're on your way to an outdoor festival or are window shopping with friends, consider a pair of flat strappy sandals or gladiators for a modern touch.