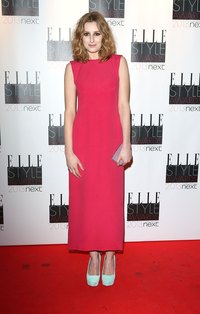 Cristobal Balenciaga was one of the best-known designers of the mid-20th century. While he created a number of innovative garments, the best-known and most influential of these was the sack dress. The Balenciaga sack dress, designed in 1956, was a loose-fitting chemise style dress, fitted only at the shoulders. It hung away from the body, providing a comfortable alternative to the snugly tailored and fitted styles of the period.
The Designer
Christobel Balenciaga began his career in his native Spain. After working as a successful designer in Spain, he moved to Paris during the Spanish civil war. He showed his first runway collection in 1937. His designs were inspired by paintings of Spanish royalty. He continued to design throughout World War II, working on a small scale. Following the war, Balenciaga embraced the fashion revolution of the postwar years, in his own way.
Balenciaga's Designs
After World War II, many designers celebrated a very feminine silhouette with an exaggerated hourglass shape. Balenciaga incorporated a different shape into his designs. While the nipped-in waist was common, Balenciaga moved the waistline of his dresses up and down freely. In 1953, he introduced drop-waist styles and in 1955, a tunic dress style. These garments were more fluid than many of the alternatives and more comfortable.
The Sack Dress
Originally designed in Balenciaga's preferred basic black fine wool fabric, his sack dress was a simple dress with a shoulder yoke, cut-on sleeves that were cut in one piece with the yoke, and minimal details. For a dressier look, the sack dress was also available in his trademark black or dark brown lace over hot pink fabric. Short by the standards of the time, the dress was typically knee-length. Balenciaga's sack dress was flattering to a variety of body types, more wearable than many of the fashions of the time, and one of the most lasting styles of the period.
Impact
Balenciaga's sack dress was the first of many loose-fitting chemise dresses. Not long after his design hit the runway, companies began offering similar dresses at all price ranges. The simple chemise dress required little fabric and was inexpensive to produce. Women could even make their own at home with patterns from major companies. Many of the dresses of the 1960s owe their design to the sack dress, even if the hemlines were significantly shorter.