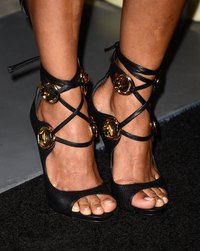 Ankle strap shoes come in many different styles and shapes. From delicate classics, like the t-strap high heel to sexy silhouettes that show a lot of skin, whatever your taste and personal style, there is an ankle strap shoe to suit you. However, while you may know what your favorite shoes look like, it's even better to know what they are called. Once you do, it will make shopping easier when you are looking for a specific pair.
Sandal
One of the most versatile shoe styles to have ankle straps are sandals. And while many people think of sandals as those flat, strappy shoes that you wear to the beach, they actually come in a surprisingly varied number of designs. Besides those casual, everyday styles with thin, rubber soles, they also come in flat platform versions, often called flat-forms. Sandals may also have heels, low or high, and can be dressy when rendered in a more expensive material, like exotic skins or patent leather.

T-Strap
The t-strap shoe is classic-- a style that can look totally retro or completely modern. First introduced back in the 1920s, the t-strap became popular due to its bare nature at a time when women were starting to show more skin. It features a slightly pointy shape with a thin strap that starts just above the toe and runs the length of the foot, resting on top of it. The strap then attaches to an ankle strap, which wraps around the ankle.

Pump
One of the most common women's shoe styles available is the pump. A slip-on shoe that has been around since the late 1800's, the heel height and silhouette changed with the times, but the same basic shape has remained. Many pumps feature ankle straps, which are attached to the shoe at the back of the heel and encircle the ankle. The strap then fastens with a buckle or a snap. Other times, it can be tied into place.

Gladiator
Gladiator-inspired shoes have been popular for several years now, but their roots go all the way back to ancient Rome. Named for the tall, strap-covered sandals worn by those trained combatants who fought for sport, gladiator shoes feature strips of leather that run along the top of the foot. The strip has numerous thinner straps attached to it that wrap around the foot and ankle and attach to the sole of the shoe. Gladiators are available with varying heel heights and some models are more boot-like, with straps that run all the way up to the knee.