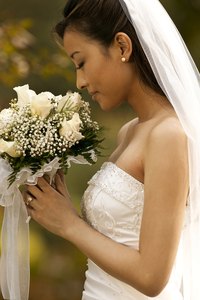 For many women, the perfect wedding day is a childhood dream, something she has been planning since her first realization that love results in marriage and marriage results in a big, beautiful, princess-like gown. Yet with that image of the perfect dress comes another big decision: figuring out how to accessorize it.
Something Blue
As the age-old adage goes, for happiness in love and in marriage, each bride should wear something old, something new, something borrowed and something blue. While the first three are pretty easy to abide by, what if blue just doesn't fit with your wedding color scheme? Not to worry - a blue necklace is an easy way to incorporate the color, and your choice don't have to draw attention to the jewelry color choice unless you want it to.

Stand Out
Make a statement with a bold blue necklace. With a white or off-white dress, go for big and bold with blue pearls that will draw attention to your neckline without compromising the traditional wedding dress code. If your wedding isn't traditional, use large jewels in a vibrant blue hue to draw attention to the neckline in a more unconventional and less conservative way.

Keep It Subtle
A blue necklace doesn't have to be the standout piece of your wedding attire. After all, you spent a lot of time and money on that dress, so if you want to show it off instead of your jewelry not a single soul will blame you. Incorporate the blue hue into your outfit by using a delicate silver or gold chain with a small, dangling blue jewel or natural rock. A jewel works best for more conservative weddings whereas the natural rock will work best for a boho-type ceremony.

Unique Finds
In looking for that perfect blue necklace to top off your wedding dress, whether you want to go big and bold or keep it a bit under the radar, don't miss out on the chance to buy something that is one-of-a-kind. Check out local boutiques in your area for emerging designers who create original pieces. It's likely these people can create a necklace just for you that will be the perfect addition to your dress and that no one other than you will ever have. It's your big day. Make everything about it as unique and wonderful as you.