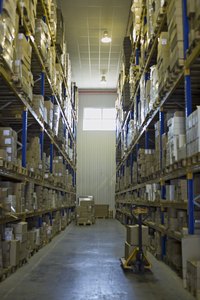 In today's technologically advanced age, where fabrics and designs can be manufactured on the cheap, fast-fashion clothing has become increasingly popular with consumers. Among fast-fashion retailers, Zara stands out as a model for the marriage of technology and fashion. The retailer, owned by Intidex, doesn't advertise, rarely has a sale, and manufactures almost all of its clothing in-house. In other words, Zara is changing the retail fashion game.
Fast Reaction to Trends
The first key factor to Zara's success is the retailer's quick reaction to changing trends and consumer preferences. Other fashion retailers begin planning their lines about nine months ahead of time, and most stores place orders for seasonal collections months before the lines are finally shipped to the stores. Zara, however, has an incredibly fast transition time between the idea conception and an item's appearance in the store. While other stores receive new styles only a few times a season, Zara can take an item from conception to arrival in stores within ten to fifteen days. This fast turn-over time allows Zara to react quickly to new trends without having to guess at customer preferences months in advance.
Vertically-Integrated Manufacturing Process
Among fast-fashion retailers, Zara is unique in that it has streamlined the manufacturing process. While Zara competitor H&M has 900 suppliers and no factories, Zara has managed to vertically integrate production, allowing the retailer to quickly and easily manufacture any item. Almost 60 percent of Zara's merchandize is made at the headquarters in La Coruña, Spain, an industrial complex with a vast network that transports clothing from one part of the complex to another. The team there focuses on using technology to complete tasks faster and with a lower risk of error. A team of around 300 designers at the complex work to create over 30,000 designs a year. H&M, by contrast, stock 2,000 to 4,000 different items per year.
Streamlined Distribution Process
After clothing items are made, they are ironed, placed on hangers, and affixed with security and price tags. All of this is done before shipment, so employees in Zara stores can spend time with customers, rather than taking care of inventory. All clothing items are sent from Zara factories to one of two distribution centers in Spain. The largest distribution center, in La Coruña, is the size of approximately 90 football fields. The facility ships over 2.5 million items every week, and no item stays in the distribution center for more than 72 hours. When the line arrives in stores, often times only three weeks after its initial conception, Zara employees simply move the items from shipping boxes to the store racks, where they can be sold immediately.
Communication Technology
Getting items into the store is only half the battle. Employees at Zara's headquarters stay in constant contact with Zara's retail store managers, who gather data on what the customers buy or reject. The store managers provide feedback about what customers ask for, such as skirts in a longer length or items in a different color. Zara headquarters can then respond to such requests, revamping the next set of items to be delivered in store. The cash registers in the store also keep track of customer purchases, which allow Zara to know different clothing items rank in sales. As a result of information technology, store managers can stay in constant communication with the design team at the headquarters, and their collaboration ensures that Zara's inventory is based on customer feedback and real-time sales rather than vague guesswork. Thanks to their streamlined processes, Zara's inventory rarely stays on the shelf for more than one month.