According to the Centers for Disease Control and Prevention, more than one-third of U.S. adults are obese. This is a major health epidemic that leads to many problems, including heart disease, stroke, diabetes and cancer. Most people who are obese know they need to exercise, but they're held back by fears. An appropriate group fitness environment led by knowledgeable and compassionate professionals may help those who desperately need to work out. There are a a few characteristics that the best fitness classes for this population should exhibit.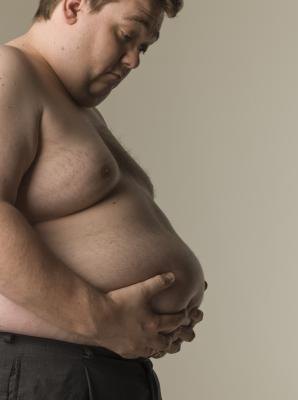 (Jupiterimages/Polka Dot/Getty Images)
The obese are not typically regular participants in group fitness programs. Many feel self-conscious about the way their bodies look and move when they exercise and are afraid they'll be embarrassed. Others are concerned that they won't be able to keep up with the rest of the class and worry people will think badly of them for it. For programs that incorporate weight machines and cardio equipment, the severely overweight may be concerned that they won't fit the machines or that they'll break them.
Group fitness programs need to be designed with obese people in mind if they aim to be truly inclusive and friendly to all fitness levels. Formats based on high-impact activity, fast choreography and quick-fix weight loss fads should be avoided. Low-impact workouts such as aquatic exercise, step classes, walking programs, stability ball exercises, indoor cycling and small-group personal training are good options because they allow participants to tailor a workout to their abilities. It's critical that the trainer or instructor of a class provides instructions on how to modify classes and that they are trained to work with obese populations.
Just as there are gyms specifically tailored to women, senior citizens and different athletic populations, gyms and group fitness programs geared toward the severely overweight are now popping up as well. While some think this type of self-segregation just perpetuates negative stigma associated with being overweight, others feel it's a great solution for meeting the unique needs of obese people. One such gym in Orlando, Ultimate Gym, provides special classes, equipment and group fitness trainers for overweight exercisers. One of the most valuable benefits this type of facilities provide is a sense of camaraderie and acceptance among participants. It fosters a group environment that is nurturing, not judging.
Always consult with your doctor before starting a new fitness program to ensure you are healthy enough for it. If you have any health conditions that your doctor advises you to be aware of when you work out, make sure you let your trainer or group fitness instructor know. Take the class at your pace and be proud that you're doing something great for your body.
Promoted By Zergnet