Swimming is one of the most popular ways to exercise, and it's no wonder. According to the Centers for Disease Control and Prevention, just two and a half hours of it per week can reduce your risk for illness and conditions such as diabetes and heart disease. It also offers a low-impact way to work out your whole body with less damage to joints and muscles. Because swimming relies on most muscles in the body, you get an all-in-one, whole-body workout that will leave you fit and toned.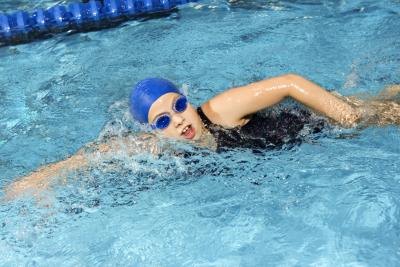 (Jupiterimages/Comstock/Getty Images)
Swimming laps is one of the most basic water exercises you can do, and you have to use all of your major muscle groups to propel yourself across the pool. Your whole body will become toned as a result, with significant changes especially in your core, which includes your hips, back and ab muscles. Change up your pool workout by trying different strokes, like the backstroke, breaststroke or freestyle. Different strokes use slightly different muscles, so you'll get a more complete workout by altering the type of swimming you're doing.
Another way to burn calories and build muscle is to run in the pool, where the water's resistance will amp up your workout. To do this, use a flotation belt to keep you in an upright position, and head for the deep end. Once you're where you can't touch, lean forward slightly and use your hands to push back the water, "running" across the pool. Bear in mind that you won't go very fast -- your run will likely be more of a walk. You can also use different leg actions to mix up this workout. Try lifting your knees high to march in place, or extend your legs to create long strides.
Stretching your muscles will also help tone and strengthen them, and it will increase your flexibility and range of motion. The pool is the ideal place to do this because of the water's buoyancy, which will enable you to stretch even farther. To work your glutes and groin muscles, hang on to the edge of the pool while in the deep end, and swing one leg in a wide arc behind you from right to left. Repeat with the opposite leg. Exercise your quads and hamstrings by turning to the side and using one hand to hold the ledge. Bend your outside leg slightly and flex your foot, pointing your toes back to your shin. Swing your leg forward until it is at a 90-degree angle in relation to your body, then sweep it back with your knee still bent. Do 10 reps, then switch sides.
People choose swimming for a variety of reasons, ranging from the health benefits associated with it, to the simple enjoyment of being in the water. People of all ages and sizes can incorporate swimming into their fitness routine, and this form of aerobic exercise will strengthen muscles, improve flexibility, increase endurance and help maintain a healthy weight. Even though swimming is a low-impact form of exercise, the water creates more resistance than air, so you're getting a more intense workout than you do on land.
Promoted By Zergnet