A low-calorie meal plan combined with exercise is a healthy way to reduce your belly flab and flatten the area. You can't spot reduce your tummy, but combining good eating habits with exercise is an ideal way to promote weight loss all over your body and get that flat stomach.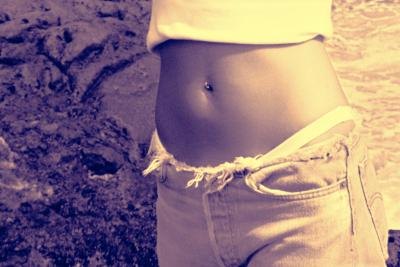 (Jupiterimages/Photos.com/Getty Images)
If you don't know what a proper portion size looks like, it's very easy to eat way more than you need to at one sitting. Fruits, vegetables and dairy foods are measured in one-cup portions, while grains and protein foods are measured in one-ounce portions. Weigh and measure your foods before putting them on your plate so you know you're eating the right amount for taking off extra weight. Over time, you should be able to eyeball a healthy portion, which allows you to eat at restaurants and friends' homes without hindering your goals.
Eating too quickly means you might end up devouring more food than is healthy at a meal, notes the Centers for Disease Control and Prevention. Slowing down at meal time means you'll be more tuned in to your hunger cues and can push your plate away before you overdo it. This translates to a lower calorie intake, which is important if you are trying to lose weight. Try putting your fork down between bites or taking a sip of water after each forkful. This forces you to slow down and helps prevent you from shoveling in bite after bite even if you aren't hungry anymore.
Everyone has indulged in a pig-out after a break-up, job loss or death of a loved one. The occasional loss of control probably isn't harmful to your weight-loss goals, but eating when your emotions rage on a regular basis can keep you from getting the flat belly you want. It might not happen overnight, but taming your emotional eating cycle can help you lose weight. MayoClinic.com suggests stress reduction techniques, gauging your hunger before reaching for food, keeping a food journal and ridding your home and work space of trigger foods and replacing them with healthy alternatives. These practices can help you learn new behaviors when your emotions make you want to devour anything in sight.
Some foods lead to belly bloat, so avoiding them can help prevent distension. Beans and cruciferous vegetables are the biggest offenders. Opt for other sources of protein and choose other types of vegetables. For example, instead of a bean burrito at dinner, opt for one filled with grilled chicken breast and avocado. MayoClinic.com suggests eliminating broccoli, lettuce, cauliflower, cabbage and Brussels sprouts. With so many other options available, it's simple to replace these with tasty and healthy substitutes.
Promoted By Zergnet