The deadlift works many different muscle groups, including your hamstrings, glutes, lower back, forearms and core. It works so many, in fact, that it's often referred to as a full-body or integrated exercise. Deadlifts are among the three competition powerlifting exercises, but they shouldn't be limited to competitive lifters. Deadlifts offer many benefits, whether you're training for muscle growth, fat loss or sports performance.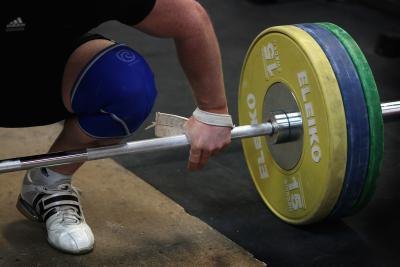 (Sandra Mu/Getty Images Sport/Getty Images)
The posterior chain is the group of muscles comprising your lower back, hamstrings, glutes and adductors. No exercise is quite as effective for building your posterior chain as the deadlift, according to Eric Cressey, owner of Cressey Performance in Boston. A stronger posterior chain is vital for improving sports performance, adds Cressey, as the muscles are placed under a huge degree of stress when you're running, sprinting and jumping. A stronger posterior chain, therefore, can make you a better athlete.
Exercises that carry over to everyday life or to activities you perform regularly are called "functional exercises." Deadlifts are truly functional, as they mimic picking a weight up off the ground, notes trainer and powerlifter Nia Shanks. Learning how to deadlift properly can help you avoid injury when picking up bags of groceries or heavy luggage cases.
The more muscles you work, the faster you'll build strength. The deadlift is a compound exercise because it works multiple muscle groups and joints. The American Council on Exercise recommends that you focus on compound exercises when you're looking to build muscle mass. When you perform deadlifts, for example, the large muscle groups involved help you increase the weight you lift relatively quickly, in comparison with isolation exercises such as leg curls or leg extensions.
The deadlift is a complex exercise in which correct form is important, so ask a qualified trainer or coach to help you learn the technique. Start with a light weight -- an Olympic bar on its own weighs 45 pounds, which is enough for many beginners. As you become more comfortable with the exercise, try to progress a bit in each session by increasing the weight, or by adding a couple of reps or an extra set. If you can't perform conventional deadlifts due to a current or past injury, consider switching to stiff-legged deadlifts, dumbbell deadlifts, or use the trap bar -- a hexagonal-shaped bar that's slightly easier on your lower back.
Promoted By Zergnet