Gymnastics is an intense sport requiring power, speed, strength and flexibility. The demands of the sport on the body can sometimes cause wear and tear if you do not train correctly, taking preventive measures to protect from injury. A gymnast's shoulders can become susceptible to injury from the constant strain on the upper arm as well as the posture required for performance. Reduce the risk of injuries such as tendinitis and dislocation of the shoulder by stretching the shoulders. A regular stretching routine will increase flexibility, warming the connective tissue in your shoulders and upper arms for a competition.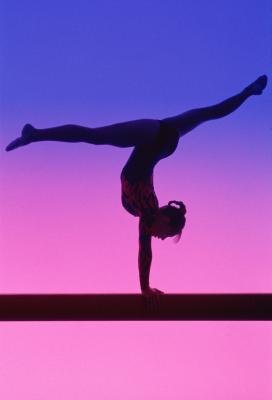 (Jupiterimages/Photos.com/Getty Images)
Your rotator cuff is made up of the muscles that connect your upper arm bone with the shoulder blade. Warming up the rotator cuff and stretching these muscles consistently can lead to increased flexibility while also stabilizing your shoulders. To perform the rotator stretch, with one hand, grasp a yardstick. Keep your arm out in front of you, with your forearm pointing to the sky. Your arm should be at a 90-degree angle. Let the stick fall behind your elbow. Grab the bottom of the yardstick with your opposite hand, pulling forward until you feel the tension of the stretch. Hold for 30 seconds.
The wall stretch can help you release tension in the muscles of your upper back, such as the latissimus, and the rear deltoid. Kneel on the floor facing a wall. Place your hands on a wall with your elbows extended at chest height and your hands shoulder-width apart. Press your shoulders down as you lean forward and lower your torso toward the ground until your arms are fully extended. For more of a challenge, begin farther from the wall, leaning into the stretch.
To prevent injury to tight shoulder muscles, perform the standing shoulder stretch before a workout. Stand with your feet shoulder-width apart, keeping your lower back arched only slightly inward. Slowly raise your arms toward the sky. When they are above your head, interlock your fingers, holding the stretch for around 15 seconds. Release and then slowly perform the stretch again two more times. The tightness in your shoulders should begin to melt away by the end of the session.
The bridge stretch stretches not only your back but your abdominal muscles and shoulders as well, increasing flexibility and range of motion when performed on a consistent basis. The bridge position is formed by arching your body into a bridge-like position, with your hands and feet on the ground and your arms and legs extended. Your fingers should be pointed toward your toes, and your heels should be on the ground. Hold for 30 to 60 seconds and release.
Promoted By Zergnet