Weight lifting is a form of isotonic training, which involves moving a constant load through an exercise's range of motion. No matter what type of movement you make or the speed with which you execute the movement, the weight remains the same. As a versatile physical activity, lifting weights can be used to accomplish various goals, ranging from boosting endurance for a sport to shaping the body. Customize a weight lifting regimen to address your needs. By changing the intensity, such as the number or reps or sets as well as the amount of weight, you can control the development of your muscles.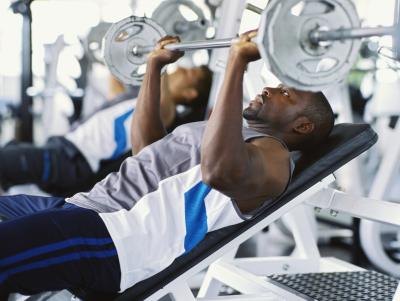 (Stockbyte/Stockbyte/Getty Images)
When using weights, you subject muscles to overload, which means you're forcing them to do something they're not used to doing. The act of lifting a weight causes small tears in your muscle fibers. When you recover after a workout, your body deposits protein molecules to create more muscle fibers and repair the tears. This process results in greater muscle mass. To strengthen muscles, perform a low number of reps – two, four or six – with heavier weights, which will recruit more muscle fibers at one time. Lifting weights also builds bone density and strengthens ligaments and tendons, which helps to stabilize your joints and improve posture. These benefits reduce the risk of injury for any physical activity, according to Lee Brown's book "Strength Training."
To build muscular stamina or endurance, use lighter weights and perform more reps, ranging from 12 to 20 reps per set according to "The Men's Health Guide To Peak Conditioning" by Richard Laliberte. The idea behind endurance training is to lift until you grow fatigued or reach muscle failure. Because you're lifting a lighter weight, fewer muscle fibers contract at one time. The fibers not working switch off and wait in line until they're needed. Your body cycles through muscle fibers, turning them on and off to keep the physical activity going. Keep rest periods short – 20 to 30 seconds – so your muscles don't settle into working for brief periods of time.
Because weight training increases muscle mass, it will boost your metabolism. You can burn up to 75 calories daily to meet the energy needs of a pound of muscle tissue, according to James Hesson's book "Weight Training for Life." In contrast, you only expend about three calories per day to support the energy requirements of a pound of fat. While muscle fibers are active and burn calories, fatty tissue is inactive and stores calories. While you may burn off more calories in an aerobic activity, such as cycling or swimming, you can add weight training to support, if not accelerate, a weight-loss program.
People who lift weights on a regular basis must confront and overcome physical challenges of training. They seem to take these challenges in stride and develop a positive attitude to life's challenges outside of the weight room, according to Hesson. Toned muscles or greater muscle mass can also improve your physical appearance, which leads to higher self esteem. You can't achieve a shapely figure and erect posture via a regimented diet. When you're strong and fit, you're more at ease with your body and can radiate confidence.
Promoted By Zergnet