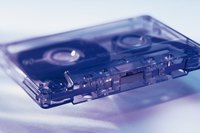 Dutch corporation Philips has been a major player in the electronics market since the 1920s, helping to develop innovative technologies like the Compact Audio Cassette and CD. The company has enjoyed continued success in the early 21st century, with its 2012 annual report showing over 118,000 employees and sales of approximately $32.4 billion. A look at the history of Philips can give you an insight into the evolution of the modern electronics industry.
Foundation
Philips was founded as Philips & Co. in 1891 by Anton and Gerard Philips. Based in Eindhoven, the Netherlands, the company started out making lamps. Philips & Co. enjoyed rapid success, and became the largest employer in the Netherlands just nine years later. By 1914 the company had incorporated as N.V. Philips Gloeilampenfabrieken and begun to look at expanding its product line, establishing its first research laboratory with the intention of developing new technologies. Its first non-lamp product was a medical X-ray tube, released in 1918.
Change of Focus
The company turned its attention to electronics production in the mid 1920s, experimenting with television in 1925 and producing its first radio in 1927. Philips' radio business grew rapidly, and by 1932 the company was the biggest producer of radios in the world. In 1939 the company launched its electric shaver, which would go on to be one of the company's biggest-selling products. The company had expanded worldwide by this point, employing over 45,000 people.
Audio Formats
Philips debuted a prototype of its Compact Audio Cassette product in 1963. Although numerous manufacturers had developed audio cassettes by that time, it was Philips' design that became the industry standard thanks to the company's decision to license the technology to other manufacturers for free. Philips was also key to the development of the CD, forming a partnership with Sony in 1979 to develop and market the optical disc technology that it had been working on for much of the 1970s.
21st Century
Electronics production has remained a key focus for Philips in the 21st century, with the company now offering a wide range of audio and video equipment, personal care items and lighting solutions. It has also branched out into healthcare, creating a separate division that manufactures baby monitors and child feeding products, alongside electronics specifically designed for the healthcare market. In addition, the company produces kitchen items such as coffee makers and air fryers.