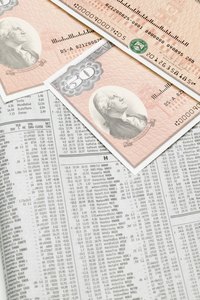 Apple and Microsoft are iconic rivals in the operating system market. However, it was actually an investment from Microsoft that helped Steve Jobs reinvent the company he co-founded, but left in 1985. Under the terms of a deal Jobs brokered with Microsoft CEO Bill Gates, Microsoft made a large purchase of Apple preferred stock in 1997. However, Microsoft has long since sold all of its Apple stock.
Apple's Turbulent 90s
In the late 1980s, Apple enjoyed substantial growth and profits, as its products defined the still young personal computer industry. However, in the 1990s new companies began to enter the market. They were running the new operating system from Microsoft, Windows 3.0, whose quality graphical user interface eroded the advantage Apple previously had with their operating systems. The new PCs running Microsoft Windows began to eclipse Apple computer in sales and market share.
Steve Jobs Returns
Apple Computers was in trouble by 1996. That year, Apple brought back Steve Jobs by purchasing NeXT, the technology company which Jobs founded after his departure from Apple. The acquisition also gave Apple the Unix-based operating system NeXT had been developing, which was the foundation for the OS X operating system Apple would release in 2001. The new operating system was one of the numerous new products Jobs planned to introduce to turn around Apple's decline. However, at the time, Apple was still cash strapped and its ability to stay afloat long enough to make those new products was in question.
Microsoft Investment
In 1997, Jobs approached Bill Gates with a deal that would give Apple a cash infusion to help secure the company for a few years, while it transitioned. Apple would drop its lawsuit against Microsoft, alleging its operating system infringed on Apple's patents, in exchange for a large investment in the company. Additionally, Microsoft committed to continue development on Mac versions of both its Office productivity suite and Internet Explorer for five years. During this same time period, Apple agreed to make Internet Explorer the default browser on its computers. According to Apple's SEC filings, Microsoft's investment took the form of 150,000 non-voting shares at a price of 1,000 dollars per share for a total investment of 150 million dollars.
Current Holdings
The terms of the preferred Apple stock Microsoft purchased allowed Microsoft to convert the stocks to common shares after August of 2000. According to Chris Foresman of Ars Technica, Microsoft had converted all of its Apple preferred shares into approximately 18.2 shares of common stock by 2001. Microsoft sold all of these shares subsequently.