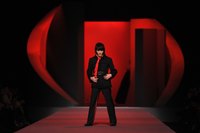 John Galliano has always been an innovator. From his beginnings at Central Saint Martins College of Art to creative director at Dior, his unique approaches to history, innovation and presentation have been inspirational. More importantly, his exquisite couture designs, understanding of the fit, form and tailoring of women's and men's clothing, and ability to sculpt with materials has made him one of the most influential fashion designers of his generation.
Theater of Fashion
John Galliano was one of the first designers to blur the boundaries between traditional runway shows and fashion as theatrical production. In 1992, he presented the first of his major theatrical runway shows, "Princess Lucretia," in which models tripped down the runways in oversized crinolines. Two years later, Galliano transformed a photo studio into a Hollywood sound stage for his show. Scenes included a parlor with a harp and a piano, another with a bed, shirtless men and empty gin bottles, a room with a bathtub, a curtain and a boxer hitting a bag, and a vintage Oldsmobile. Galliano set the stage for runway show as production, prompting stylist Patricia Field to remark in 2011, "John lives in theatre."
Reinterpreting the Past
Throughout his career, Galliano mined culture and history for his inspirations. Fashion writer Dr. Jessica Michaels has criticized Galliano for his ongoing appropriation and use of Native American motifs in his collections, but his Native American themes have appeared throughout his career, particularly with references to beading techniques in his first collection for Dior. Although Galliano was one of the first contemporary designers to use reinterpreted history as a key component in his collections, the influences of this researched approach are common in fashion today with collections such as the "Mad Men" collection produced by Banana Republic.
Bias-Cut Dress
One of Galliano's most inspirational and ongoing contributions to contemporary fashion was his reinterpretation of the bias-cut dress. By the mid-1990s, Galliano's reinterpretation of the dress, first seen in his "Princess Lucretia" show, had made it more modern. His bias-cut dress, a reinterpretation of the technique invented by Madeleine Vionnet, was marked by its emphasis on the feminine form, its streamlined tailoring and its sexiness. Anna Wintour, editor of Vogue, remarked that the bias-cut slip dress became the symbol of what fashionable women wore out in the evenings.
Simply Glamorous
More than any other aspect of his collections, Galliano's major influence on fashion has been his innovative approach to couture. As Alexandra Shulman of British Vogue remarked, Galliano is best known for his romantic glamour. This understanding of the intersections of history, Hollywood, technique and glamour are the key elements of Galliano and his fashion from its beginnings to the present day. In 2010, fashion editor Carola Long remarked that audiences at Christian Dior shows expect theatricality, but that Galliano is able to deliver it with both drama and restraint. More than anything, Galliano shows us how he and other designers can understand the multiple layers upon which fashion is built.