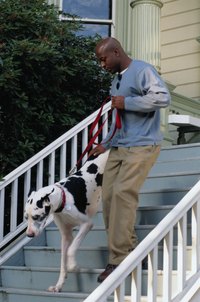 Whether you recently adopted a three-legged pooch or are helping your beloved pup recover from an amputee surgery, you'll need to help him get acclimated to his environment. Even though he's missing a limb, he'll be able to get around like his old self after a little practice and hike up that staircase in no time.
Walk the Trail Yourself
Maybe you're transitioning from a single-level home to a place with stairs and wonder how well Buster will be able to get around. Before putting him in that situation, walk the path at his level. Get on all fours or lean low to the ground and make the trek up those stairs. You want to watch for loose carpet that he might trip on, strings that can snag a claw or other obstacles that might make it harder for him to make it all the way up to the top. If your stairs aren't carpeted, you may want to consider laying down traction strips to make it easier for him to catch his step.
Working With Him
Buster could be slightly intimidated by the grand stairwell, making him hesitant about going up. Take it slow and make it rewarding. Get a bag of his favorite treats and break them up into small pieces. Go up the stairs with him, offering him a small snack at each step. You can do the same thing on the way down to help entice him to get down the stairs.
Take Baby Steps
Each step is an accomplishment. He doesn't have to learn to climb the entire staircase all in one day. Practice just going up one or two stairs at a time and then go right back down with him. Get excited with each step he climbs, further encouraging him to continue if he can. If Buster seems stressed, doesn't want to go up or gets tired, stop your training session for the time being. You don't want him to associate the stairs with something scary or stressful -- it should always be a positive experience for him.
Other Considerations
If Buster is older or has other health ailments, stairs can be an absolute nightmare for him. Make him a safe haven down on the main level so he doesn't have to deal with the steps. His water, food and toys should all be downstairs. You may want to consider putting a gate in front of the stairs at night, lessening his risk of climbing them and having an accident. If it's just the stairs at your entrance that are cumbersome, installing a ramp is your next project to make his life a tad less stressful.