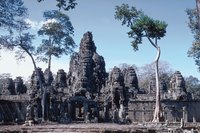 The majestic Angkor Wat temple in northwestern Cambodia is an architectural wonder, one of the world's largest religious monuments and one of the finest remnants of the ancient Khmer Empire. It's the best-preserved of several temples in the more than 150-square-mile Angkor Archaeological Park, a UNESCO World Heritage Site. Millions visit this historical site each year, though careful preparation and timing can minimize your frustration with the crowds if you wish to be one of them.
Identification
Angkor Wat was built in the 12th century under the rule of King Suryavarman II, possibly related to his funeral ceremonies. He dedicated the 500-acre, five-tower temple site to the supreme Vedic god Vishnu, and he designed the temple to be a replica of the universe as it was understood at the time. The 700-foot central tower is a symbol of the sacred Mount Meru, with the surrounding walls and moat symbolizing the mountains and oceans at the world's edge. Among its highlights are its facade and the intricate carved bas-relief depicting images from Hindu sacred texts.
Getting There
The closest airport to Angkor Wat is in Siem Reap, which is just a few short miles away from the temple. Major airlines that serve Siem Reap include Delta (delta.com), Virgin Australia (virginaustralia.com), Singapore Airlines (singaporeair.com) and Korean Air (koreanair.com). You likely will have to connect through Bangkok, Seoul, Singapore, Kuala Lumpur or Ho Chi Minh City. Visas are available upon arrival for a fee, and the short taxi ride into town will cost just a few dollars. From the city, you can reach Angkor Wat via taxi or the popular tuk tuks, small motorized rickshaws.
When to Go
Angkor Wat gets million of visitors each year, so the ruins can be quite crowded if you do not time your trip right. June through October is the off-season, when crowds are thinner and travel prices are cheaper. If you visit during that time, go to the temple early when it's cooler and less likely to rain. If visiting during busy times, you can avoid crowds by timing your visit when fewer tour groups are at Angkor Wat. This includes getting there very early in the morning, when the temple first opens to visitors, or during the breakfast and lunch hours, around 9 a.m. and noon, respectively. One local tour company, AboutAsia (aboutasiatravel.com), has monitored data regarding crowd patterns and specifically times its visits when traffic is at an ebb.
Tips
You will have to pay admission to visit Angkor Wat, but the admission covers the entire archaeological park, so you will be able to visit the other temples as well. You can buy passes for one, three and seven days, and U.S. dollars are accepted. The other temples are quite spread out, so you will need a car service or tour group to get to them. Wear comfortable shoes well-suited to uneven, slippery surfaces, and bring an umbrella for protection for the hot sun or a sudden rainstorm. Be prepared to see children begging around the temple, but if your heartstrings are pulled, donating to local orphanages or other charities will be a more effective use of your money. The U.S. State Department also cautions travelers to be vigilant of crimes such as purse-snatching around Angkor Wat, particularly during annual festivals.