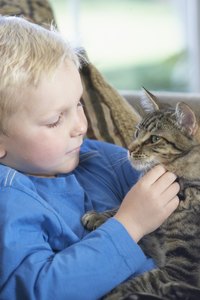 What if you're anxious and your doctor tells you to pet a cat, listen to him purr, and if that doesn't help then call the office in the morning? Although doctors aren't in the habit of prescribing "cat therapy," research shows a cat's purr can help people to overcome anxiety.
Contentment Therapy
A purring cat is usually a contented cat. But what many people don't know is that cats also purr when they're injured or stressed: they may be self-soothing, but some research suggests that the gentle vibration of purring may actually help broken bones heal faster. Now many researchers believe that a cat's purring can also help heal people, especially those dealing with anxiety and depression. Even the Centers for Disease Control and Prevention suggests that having a pet companion can help people who are living with depression.
Mental Health
Pet therapy, a well-known adjunct in many health care situations, is especially beneficial for mental health. Purring cats help people to reduce stress, anxiety and depression, and they can even help people bolster their self-confidence and conquer feelings of loneliness. "All people report feeling less lonely in the presence of animals—even birds," says Alan Beck, director of the Center for the Human-Animal Bond at Purdue University in West Lafayette, Indiana. "Animals are good for everyone, but particularly for anxious and depressed people."
Other Benefits
As if reducing anxiety isn't enough reason to hold a purring cat, there are other reasons. Owning a cat helps to reduce high blood pressure, heart attacks and strokes, and also lowers the risk of cardiovascular disease. In addition, being around a cat helps people to improve their immune function and lower their trigylcerides and cholesterol. Finally, hanging out with a cat helps make for stronger bones and can decrease one's chances of developing allergies.
Purring to Health
To benefit from the healing powers of felines—especially those "feel-good" biochemicals that help you to relax—try spending some time each day listening to a cat purr and petting and talking to him. You can also try giving your cat a therapeutic massage, which will be soothing for both of you. Or play with a cat, which helps you to release stress, breathe more deeply and even laugh a little.