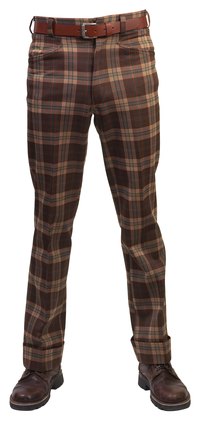 Matching a tie with plaid pants is easy, fun and potentially disastrous. Here are some simple ideas that will make the process enjoyable, the outfit handsome and the fashion disaster avoidable.
A Solid Idea
In selecting a tie to go with plaid pants, a solid-color tie is the easiest, safest and often best choice. Choose one of the accent colors in the plaid and select a matching colored tie. Make sure the tie is in the correct fabric to match the pants. If they are wool pants, choose silk. If they are cotton or madras, choose cotton or linen for the tie.

Pattern on Pattern
Depending on the plaid in the pants, there are tie patterns that may look great in addition to solids. Pin-dots, club patterns or rep stripes can work. Match accent colors in the pants to the majority color in the tie.

Patterns to Avoid
Except for the most fashion-forward, avoid ties designed with bold florals, abstracts or paisleys when pairing with plaid pants. Too much pattern is, well, too much. The pants are going to be eye-catching enough based on their pattern. Let the tie support the look visually and not fight for attention.

Expert Advice
If in doubt, go to a better department store or a men's specialty store for help. The sales associates there often have been pairing ties and pants for many seasons and can help you make a good choice. In fact, their job depends on it.