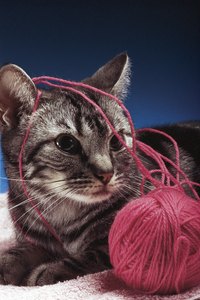 Cats love to eat things that they shouldn't, and string is one of their favorite inedible snacks. Twine, string, rubber bands and other foreign linear bodies are a serious health hazard for your furry friend. These materials can get stuck in your pet's digestive tract, causing serious medical issues.
Anchoring
While the biggest danger of ingested string is damage to your cat's intestines, linear objects usually become stuck elsewhere in his digestive system before disrupting bowel function. String can get wrapped around the base of his tongue or in the lower section of the stomach right before the intestines. Up to 1 in 10 of string-swallowing cases involve a needle attached to the swallowed string, according to Manhattan Cat Specialists. The needle can get stuck in your cat's mouth or become lodged in his stomach.
Intestinal Pleating
Intestinal problems start once the string is anchored somewhere inside your kitty. As the length of string moves through his intestines, it reaches a point where there is no more slack leading to the anchor point. Your kitty's intestines convulse repeatedly to move the object through. If the string doesn't start coming through, the intestines start climbing up along the string instead. The intestines become "pleated" as they bunch up around the base of the stomach. Twine, string and rubber bands can clog your kitty's intestines without an anchor if the object forms a solid tangled knot that is too big to pass through the organ.
Treatment
If you see a piece of string hanging out of your kitty's mouth or rear, there's a good chance that it's just the tip of the iceberg. Tug gently on the string, but stop applying pressure immediately if there is any resistance. Pulling on a string stuck inside your cat can make the problem much worse, according to Montgomery Animal Hospital. Firmly restrain your cat and clip the string as close as you can without risking injury to your pet. Rub a few globs of clear petroleum jelly on your kitty's paws and dab some into his mouth. The lubrication may help him pass the string if it hasn't anchored yet.
Medical Help
Observe your cat carefully for the next day or two. If he vomits or refuses food, then the string is likely anchored and impacting his intestines, according to Animal Planet. Take him to the vet immediately if he appears ill. The string can cut the lining of his intestines as they become pleated. If it cuts all the way through, your cat's insides will be exposed to the contents of his digestive system, which creates a potentially deadly medical emergency. Your vet may have to resort to surgery to remove the object lodged in your kitty's gut. Cats undergoing surgery to remove linear foreign objects have a survival rate of about 84 percent, according to Manhattan Cat Specialists.