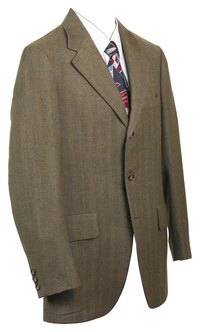 After saving your pennies for months, you finally have enough money to buy your dream suit. OK, so you don't have enough for a dream suit, but you do know that you want to own a quality suit that won't go out of style before you've had a chance to break into it. Although an extremely wide variety of suit cuts, patterns and fabrics exists, starting with a general knowledge of at least one type of suit will get you started on choosing which look is best for you.
Pattern
The herringbone pattern is easily recognized. It is a weaving pattern used in a variety of clothing, from ties and shirts to socks and suits. The pattern is made up of lines in parallel rows that slope in opposite directions from adjacent rows. In many fabrics, this is done with high-contrast colors; however, the herringbone pattern is done very subtly in suits. Designers use subdued colors and utilize a very fine weave for the fabric to provide a quiet, smooth pattern texture.

Fabric
Herringbone suits are made from a twilled fabric in the herringbone pattern. A twilled fabric is made with a weaving technique that produces diagonal lines. Although designers can use a variety of materials to produce a herringbone suit, they most often select materials like wool and flannel. The stiff nature of these materials enables a firmer weave and more structured garment. The general effect of the technique provides the suit with a subtle, yet definite, multidimensional appearance.
Pairing a Shirt
Choosing an appropriate dress shirt to match a herringbone suit is a fairly simple task but requires that you take a few minutes to reflect on what you want your suit to say about you. If you want to show that you're a creative, out-of-the-box kind of guy, choose a shirt that uses a two-color herringbone pattern weave. This will add extra dimension to your overall look and provide an eye-catching effect. If you prefer a more subdued, business professional look, you will probably fare better with a broadcloth shirt. Broadcloth is devoid of visible weaving patterns and provides a sleek polish to any professional look.
Pairing a Tie
The kind of tie you wear with your herringbone suit will first depend on the type of fabric from which your suit is made. If your suit is wool, choose a wool tie; if your suit is flannel; wear a flannel tie. Although it isn't necessarily a rule that must be followed, coordinating fabrics create a clean-cut appearance for men.
The pattern of a tie is less dependent upon your suit than you might think. Your herringbone suit is almost certainly going to have a subdued weave, but that doesn't mean that you have to select a subdued tie. Choose a tie with a color that both complements your suit's color and anchors your overall look -- including your suit, tie, pocket square, socks and shirt.