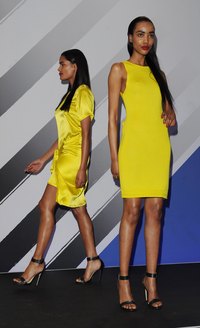 You love everything about your citrus yellow gown, but what to wear with it? If you're accustomed to wearing bold, daring outfits, you probably already know that there are color guidelines you should follow. When it comes to color, the best way to walk the line between daring and disastrous is in perfectly coordinated shoes.
Black
Match bold for bold with black shoes. Although many women wouldn't consider wearing black with such a warm color, black can be a very flattering shoe color choice with citrus yellow. Black is neutral and pairs fairly well with every color in the color wheel. However, black is the mixture of all colors and tends to absorb colors that are near it. You can keep your shoes from dominating your look by choosing a shoe that will allow for color disruptions. Consider an open-toe shoe, which will break up the solid black with the neutral flesh tone of your feet.
White
White, another neutral, is the absence of all color. Unlike black, which can overpower your look, white is a reflective color. White is the perfect match for a bold color choice partly because it is used to make the citrus yellow hue, and partly because it will not take anything away from the boldness of your dress. The only problem with white shoes is that they will be overshadowed by the bright yellow. If you want to show off your shoes, white may not be the best choice.
Purple
The natural complement of yellow is purple. Purple is a color that absolutely must be used responsibly, especially when pairing it with such a bold hue as yellow. Since you're already neck deep in a citrus color scheme, choose a variation of purple that includes elements of red. This can be tricky, but it can be done. The best shade of purple for your dress will be understated and dark.

Near Neutrals
If you're having a lot of trouble choosing a black, white or purple shoe to go with your citrus yellow dress, then your next best option is a near neutral. Near neutrals include several shades of brown, beige or tan. While beige and tan may not have the kick you're looking for in a shoe, brown is an excellent and natural color to match with the citrus warmth of your dress.