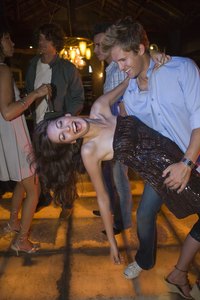 It's a Friday-night dilemma faced by men around the world for decades. Which shoes should you wear for a night at the club? There are no hard-and-fast rules to suggest that you must wear either loafers, an inherently casual shoe, or dress shoes, a more formal footwear, to a nightclub. Before you slip on your new suede loafers or black leather wingtips, consider how your shoes will affect the rest of your night.
Comfort
Do you plan to do a lot of dancing, moving around or standing? Few things can spoil a night out more successfully than foot pain. If the answer is yes, then loafers are the most logical choice. Your new pair of wing-tip dress shoes may be beckoning you for a night on the town, but you would be well advised to leave them in your closet. Loafers are usually built for comfort and style; if you have a pair of leather or suede loafers that work well with your ensemble, they are probably your best option.
Wardrobe
Not every loafer is appropriate for night clubs or all outfits. Loafers often go well with jeans and an untucked button-down shirt, but they are not as becoming when paired with pleated slacks. Although many high-end loafers are chic enough to be worn with casual slacks, they are most often designed for casual comfort; if you really want to impress club goers with your style, leave your plain brown loafers at home and go with your black lace-up dress shoes. Wearing a high-end dress shoe to a club dresses up your look and helps give the appearance that you're a successful and stylish adult.
Venue
If you know where you're going for the evening, plan your shoes accordingly. Just because an upscale club may admit you wearing simple loafers doesn't mean that you should wear them with whatever you find hanging in your closet. Conversely, showing up to a dive bar in dress shoes and slacks is sure to get you odd looks. If you don't know where the night will take you, it's better to err on the side of caution; wear your dress shoes. It is better to overdress than to be turned away at the door for inappropriate footwear.
Walking the Line
There are a variety of loafers constructed in numerous styles, colors and materials, but not every loafer is appropriate for evening wear. Your old penny loafers may work well in the light of day, but the club atmosphere is unforgiving. Penny loafers tend to look too old-mannish for a party unless they have a modern, narrow build. Square-toe loafers are another questionable fashion choice; they often look cheap after several wears because their structure produces creases in the leather. A round-toe loafer is far more appropriate, durable and stylish.