When you're trying to choose a new type of workout to help you keep active, it's important to consider the prospective choices from all angles. Riding an exercise bike and walking are both effective types of exercise that provide a number of benefits. While you can certainly incorporate both in your fitness routine, one might be more suitable for your situation.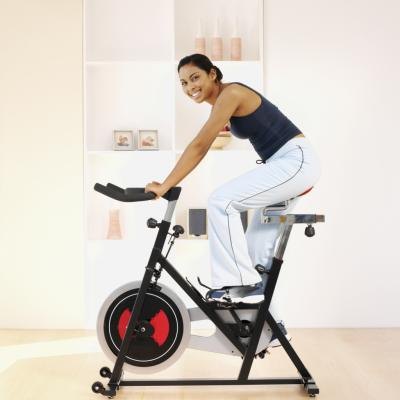 (Stockbyte/Stockbyte/Getty Images)
If you want to lose fat, selecting an exercise that burns calories at a more rapid rate is the fastest way to see results. Harvard Medical School reports that a 185-pound person who uses an exercise bike at a moderate or vigorous pace for 30 minutes will burn 311 or 466 calories, respectively. If the same person walks for 30 minutes at 3.5 or 4.5 miles per hour, she'll burn 178 or 222 calories, respectively.
Impact on joints is an important factor to consider whenever you're considering a new exercise for your workout regimen, especially if you have pain in your knees. Riding an exercise bike creates virtually no impact because your feet don't hit the ground during each stride. Though walking doesn't create the same level of impact as a more vigorous activity such as running does, the impact you'll experience while walking is greater than while cycling.
No matter where you live, it's difficult to find an exercise more convenient than walking. Whether you want to walk up and down the halls of your apartment building or around your neighborhood or join a walking group in your community, walking usually requires no equipment other than a pair of comfortable shoes. Walking is appropriate for people at all levels of fitness. If you want to use an exercise bike, you'll need to access one at the gym or at home. This, of course, will cost you money.
One of the chief perks of working out on an exercise bike is being able to watch TV or even read a book or magazine as you peddle to burn calories. Inclement weather, which can significantly impact the joy you experience during a walk, is not a factor during an exercise bike workout. Exercise bikes also track your distance, speed and the calories you burn during the workout. If you enjoy being active with your family, however, an evening walk together can help create quality time.
Promoted By Zergnet