When they hear the word "endurance" most people will think of long distance running, or sports that require an athlete to work away at a steady speed consistently for a long period of time. However, there are many types of endurance. Tennis is a sport that demands intervals of high levels of intensity throughout a match. To constantly perform sprints and power moves tennis players must develop a special type of endurance through tennis-focused exercises.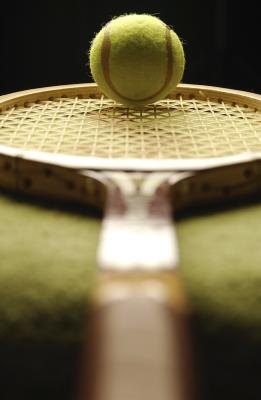 (Hemera Technologies/AbleStock.com/Getty Images)
While sprinting and anaerobic exercise is most common in tennis, athletes must also incorporate aerobic exercise into their training program to maintain a base level of fitness. Aerobic, or cardio, exercise is a workout that involves your major muscle groups and works your heart and lungs. Swimming, biking and running are all excellent forms of cardio that can help improve your endurance training.
Once your baseline cardio workout is in place, you should incorporate interval training into your fitness program. Tennis players must be able to switch gears and make powerful moves at any moment during a match. Choose a form of cardio that best suits you and instead of keeping the same pace throughout your workout, vary your speed for short intervals. For example, on a bike, pedal as hard and fast as you are able for 30 seconds, then slow and recover for 60 seconds. Repeat such a sequence over a period of 20 minutes. This technique can be applied to running and swimming, with the goal of increasing your cardiovascular endurance.
In addition to your cardio and interval training, practice tennis-specific drills on a consistent basis to improve endurance. To perform the spider drill, place tennis balls on both sides of the court where the baseline meets the singles line and also at the left and right points where the service line meets the single's line. Position another ball at the center of the service line. Begin at the center of the baseline and side step to one side to pick up one ball, and then step to the other side to pick up the second ball. Next, sprint at a diagonal to pick up the third ball at one of the service line corners and side step to get the other. Back pedal to the baseline and sprint forward to grab the final ball at the center of the service line. Challenge yourself by keeping time and trying to break your record.
Another tennis drill to improve your endurance for a match is the cross-court drill. Begin in one corner of the court, where the baseline meets the doubles line. Hold your racket in hand. Side step along the baseline to the corner and sprint at a diagonal toward the net. Make the motions of a forehand swing. Side step parallel to the net to the other side of the court, then turn to sprint at a diagonal to the point where you began. Make the motions of a backhand swing. Go through this sequence three times, then rest for one to two minutes and repeat the circuit.
Always consult your doctor or personal trainer before beginning a new workout routine. A health professional can help you determine the appropriate intensity of your workouts as well as your target heart rate. Warm up with a light jog or brisk walk and stretch before exercise. Keep a water bottle on the sidelines and hydrate before, during and after your workout to avoid dehydration, muscle cramps and undue fatigue.
Promoted By Zergnet