Fitness and strength training isn't just for young people. Senior citizens can enjoy increased strength and improved health by doing seated dumbbell exercises, which can also help you improve your upper-body muscle strength and joint flexibility. Stronger muscles and more flexible joints make everyday tasks easier and less painful if you suffer from arthritis. As your upper body grows stronger, you will find reaching and grasping easier with less discomfort.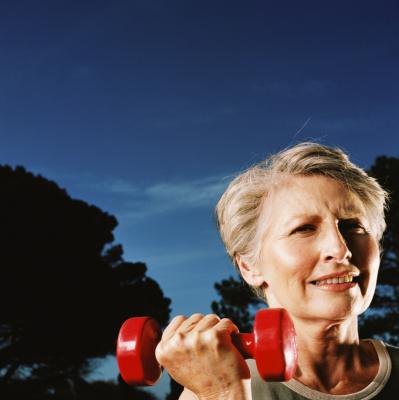 (Stockbyte/Stockbyte/Getty Images)
Senior citizens benefit from dumbbell exercises and increased endurance. Your bones will benefit from increased bone density, which can help prevent osteoporosis and reduce your risk of fractures. You'll be more independent because you will be better able to perform daily tasks, such as lifting and reaching. Your metabolism will also increase as you restore muscle mass, which helps reduce your risk of obesity and all the diseases that are associated with excess body fat. By improving your balance and flexibility, you also reduce your risk of falls.
You should try to exercise all of your muscles for 30 minutes, two to three times each week on nonconsecutive days. Allow at least 24 hours for your muscles to rest and repair. Begin with light weights no heavier than 2 pounds, and then gradually increase the weight of your dumbbells or do more repetitions as your strength grows. When you lift a dumbbell, it should feel difficult for eight repetitions. Once you can easily do eight repetitions, increase the weight by 1 to 2 pounds or do 10 to 15 repetitions. Do dumbbell exercises slowly and pay close attention to your form. Performing weight exercises incorrectly can result in injury.
Select a sturdy chair without arms, and sit up tall and straight when doing dumbbell exercises in a chair. Lean your back against the backrest of the chair for support if you need it, and keep your feet flat on the floor. Some dumbbell exercises that you can do while sitting in a chair include biceps curls, dumbbell extensions for your triceps on the back of your arms and wrist exercises. Wrist curls are performed holding a dumbbell with your palm facing upward. Wrist extensions are performed with your palm facing the floor. Lift dumbbells up and over your head to do dumbbell presses.
You can do seated dumbbell exercises safely if you take a few precautions before you start exercising. Begin by warming up your muscles for 10 minutes with walking or light jogging before you lift dumbbells, and then stretch your muscles to help prepare them for the workout. Keep your back straight during exercise and squeeze your abdominal muscles to brace your body for the lifts. Remember to breathe when exercising; breathe out when lifting and breathe in when you relax and return to the starting position. Stop if you feel pain, and talk with your doctor about strength training before you begin lifting dumbbells.
Promoted By Zergnet