Two muscle groups form the thigh -- rear-flanking hamstrings and front-flanking quadriceps. Frequently stretching the hamstring keeps the muscles flexible and lowers your risk of sprains and strains, and you can work to prevent injury first thing in the morning with a full-body stretch and fatigue-free dynamic hamstring stretches for flexibility and strength. Hamstring stretches can relieve lumpy-mattress-induced low back pain, too. Talk with your doctor before starting a stretching program.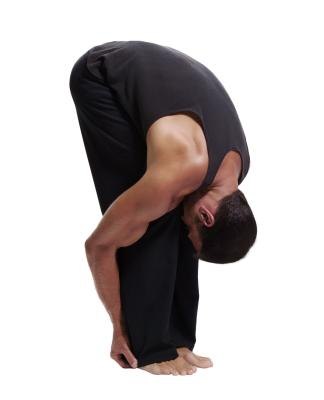 (Thinkstock/Comstock/Getty Images)
Your hamstrings are a workhorse muscle group, helping the hips move and the knees flex and rotate. Hamstring tightness can create a poor posture, which adds to low-back stress and pain. Tight hamstrings also misalign your pelvis, throwing off how you walk and causing your lower back to ache. Keep the hamstrings conditioned and lengthened with a quality stretching routine and help avoid strains, sprains and lower back ills. Try adding a few hamstring stretches to your morning routine.
A hamstring routine doesn't have to consume your morning; however, do begin by warming your muscles. Start with five minutes of gentle aerobic activity, such as jumping jacks or a light jog. As blood flow increases, you'll be less likely to sprain or tear a hamstring while stretching. Consider adding exercise bands or straps. Expensive equipment is unnecessary, but elastic exercise bands are an affordable way to incorporate strap-specific hamstring stretches. Lie on the floor with the band centered on your right foot's arch. Hold the band's ends, and raise your right leg, stopping if you feel pain or discomfort. Hold for eight seconds and lower your leg. Repeat with the left leg.
Lengthening your hamstrings with a morning stretching routine is an ideal way to avoid lower back pain, but your weekday schedule may not allow for a proper warmup. Instead of a five- to 10-minute cardio warmup, hop in a warm shower or tub. The warm water activates blood flow and preps your muscles for stretching. Don't let the hamstrings cool down, though; stretch them immediately afterward. Round out the day with nightly hamstring stretches, and keep both sessions short. Hold your stretches for 30 to 45 seconds. If your hamstrings burn, you've held the stretch too long.
Coaches and doctors are split on whether stretching benefits muscles or harms them. A 2008 University of Nevada study examined the affect static and dynamic stretching has on athletic performance. Static stretches are stretches where you hold the pose long enough to feel a burn, and doing them may result in short-term hamstring weakness that can mess with your game. If you are gearing up to hit the gym, that muscle weakness can trip you up. Dynamic stretches, such as lunges, continually flex the muscle. The study found that static stretches lowered athletes' lower-body performance while dynamic stretches did not.
Promoted By Zergnet