Exercise provides a broad array of benefits, from improving your mood to reducing your chances of developing heart disease. But not all types of exercise are exactly the same, and the particular benefits and characteristics may make some activities much more preferable for you. Take, for example, bodyweight exercises and lifting weights. While both can provide your muscles with some stimulus for growth and development, not everything about the two activities is the same.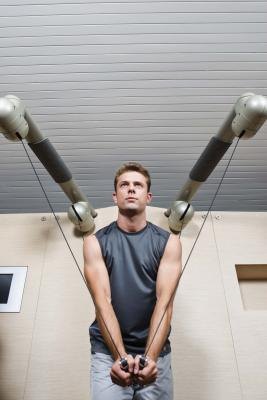 (Jupiterimages/Goodshoot/Getty Images)
Lifting weight, by definition, requires at least the barest of equipment -- some form of weight. But the type of equipment varies, from dumbbells you might have in your home to larger, more complex exercise machines primarily intended for use in commercial gyms. Although bodyweight exercises don't require equipment, you can perform some of these exercises with equipment. For example, you might perform crunches on a fitness ball or perform push-ups with your feet elevated on a weight bench.
In a very broad sense, lifting weights and bodyweight exercises support the same goal -- exercising your muscles. But the particular type of muscular development differs. Bodyweight exercises are better suited to promoting muscular endurance, as they involve lower resistances that enable you to perform more repetitions. When lifting weights, you can use heavier weights and lower repetition ranges to train for muscle size and maximal strength.
If you're looking to maximize weight loss, your time will be better spent lifting weights. Lifting weights allows you to burn more calories than performing bodyweight exercises, as your body has to work harder to move the heavier weights. Additionally, a study from the December 2009 edition of the journal "Diabetes Care" indicates that your metabolic rate stays elevated for up to 72 hours after heavy weight training. That is 24 hours longer than the duration of metabolism elevation for lower-intensity training.
A major factor influencing the success of your workout routine is how convenient it is. After all, if there are a lot of obstacles to you exercising, you're less likely to do it. Since bodyweight exercises can be performed at home, there is little cost involved unless you decide to purchase special equipment such as a fitness ball. A weightlifting plan will require you to either buy weights or pay to access a fitness facility, which may be expensive.
Any type of activity poses injury risk. For the most part, bodyweight exercises are less likely to cause injury than lifting weights, as you don't have to worry about dropping weights on yourself or straining muscles by trying to lift too much weight. Of course, you can still slip and fall with bodyweight exercises, so it's best to exercise with proper supervision. Also, check with your doctor before starting any workout program to avoid aggravating any previous injuries.
Promoted By Zergnet