When you raise your arm up and then bend it at your elbow to reach behind your head, you are stretching the triceps in what is sometimes referred to as the overhead triceps stretch. The triceps muscle runs down the back of your upper arm and is engaged when the arm is extended from the elbow joint in opposition to the biceps. Warming up and stretching the triceps will help prevent injury and muscle stiffness, improve your posture and ready your muscles for working out.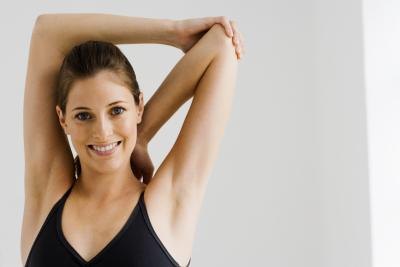 (Pixland/Pixland/Getty Images)
The triceps brachii, commonly known as the triceps muscle, has three heads that are connected to the humerus and scapula bones in your arm. They are known as the long (inside), medial (middle) and lateral (outside) heads. The bulk of the muscle is found at the shoulder, where the three heads meet; the muscle then runs down to connect at the forearm. It is good to include triceps stretching and strength training in your exercise routine as the muscle does not get used very much during day to day activities. Working the muscles will help firm the flab that can develop on the back of the upper arms.
Start by standing with feet hip-width apart and lift your shoulders up and then bring them down and back. Reach your right arm straight up and bend your right elbow reaching your right hand behind your head and toward the middle of your back. Keep your elbow as close to your head as possible .Reach your left hand up and hold your right arm just above the elbow and push the arm gently back to deepen the stretch. Hold the stretch for 20 seconds and do 3 repetitions; try to take the stretch a little deeper each time. Switch arms and repeat.
Another stretch that requires you to reach behind your head with your arms is the triceps reach. This stretch uses a stance similar to the overhead stretch, but it stretches both arms at the same time. Reach both arms up towards the ceiling and clasp your hands together with your fingers interlaced. Now bend at your elbows and reach your hands behind your head and as far down the middle of your back as you can. Keep your elbows pointing up and pulled in. You may only be able to get as far as the bottom of the back of your neck and that is fine as you should still feel the stretch. Hold the stretch for 20 seconds and do 3 repetitions.
Always do 10 to 15 minutes of light intensity cardio to warm up before stretching and working out. This will increase circulation and warm up the muscles. Stretching when muscles are cold could lead to injury. When stretching, remember to keep your breath deep and slow. As a general rule of thumb, inhale when you are in the starting position or holding the stretch and exhale as you move into or deepen the stretch.
Promoted By Zergnet