Most people know exercise is good for their heart, but what isn't always clear is just how much exercise is needed to improve heart health. Cardiovascular disease is the leading cause of death in the U.S., according the World Health Organization, and that's a statistic you can't afford to ignore. Improve heart health by making appropriate lifestyle changes, which should include getting adequate amounts of exercise.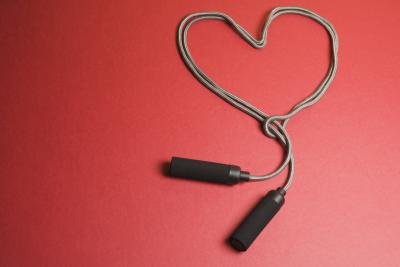 (Comstock Images/Comstock/Getty Images)
Your heart's primary purpose is to move life-sustaining blood throughout your body so every cell gets oxygen. As a result, aerobic activities like running, cycling, stair climbing and rowing challenge your heart to provide oxygen to your muscles, making your heart stronger. The more intense and frequent the activity, the more benefit you get. Accordingly, to strengthen your heart and reduce your risk for cardiovascular disease, the Centers for Disease Control and Prevention recommends you do 150 minutes of moderate-intensity aerobic activity like brisk walking, or 75 minutes of vigorous-intensity aerobic activity such as jogging or running, every week.
Many people view weight training as a way to increase strength and power for sport; few consider it an activity to protect their heart. While weight training has little impact on your heart's aerobic capacity, it can improve your blood sugar levels, sensitivity to insulin, blood pressure and body composition, which are all important for preventing cardiovascular disease. Research also indicates just how much weight training may affect heart health. In a study conducted by Harvard University, scientists tracked the heart health of 44,452 men for a period of 11 years. They found that men who weight-trained for 30 minutes or more each week reduced their risk for developing coronary artery disease by 23 percent.
Yoga is a practice that emphasizes connecting your mind, body and spirit. In westernized cultures, some yoga practitioners have added dynamic stretching and aerobic activities to their routines. By adding these new elements, yoga may provide heart protective benefits — but only in relation to the aerobic intensity of the workout. In other words, a yoga routine may help your heart so long as it is done at a moderate-to-vigorous aerobic intensity. But it's the calming effects of participating in regular yoga exercise that affect heart health the most. Writing for the American Heart Association, psychologist and yoga practitioner M. Mala Cunningham, Ph.D., said that lower blood pressure and a more relaxed feeling are experienced after just one class. After 12 weeks of regular practice, not only is blood pressure dramatically improved, but you may experience lower cholesterol levels and increased body functionality -- all of which reduce the risks of heart disease.
A sedentary lifestyle is a risk factor for heart disease, but simply classifying people as active or sedentary may not be enough to account for how inactivity impacts your heart. That's because research suggests that even if you exercise, sitting for extended periods of time can increase your risk for heart disease. In their journal "Circulation," the American Heart Association published results from a 2010 study examining connections between cardiovascular disease and watching television. They found each one-hour increment of daily television viewing increased a person's risk for death from cardiovascular disease by 18 percent. Additionally, they found when compared to viewers watching less than two hours, viewers watching four or more hours of television had an 80-percent higher risk of death from cardiovascular disease. Many health officials now recognize extended periods of sitting as its own risk factor for heart disease—separate from how much a person exercises. Limit sedentary activities as much as possible and follow CDC guidelines to ensure you are getting adequate amounts of exercise for improved heart health.
Promoted By Zergnet