The trapezius is a large, broad muscle named after its shape, which resembles a trapezoid. It extends from the base of the skull to the last vertebra of the thoracic spine and inserts near the top of your shoulder blades. The lower trapezius, which refers to the area near the lower thoracic spine, can get stiff and tender from stress, whether the cause is from negative emotions, injury or exercise. Take frequent breaks from work to stretch it out.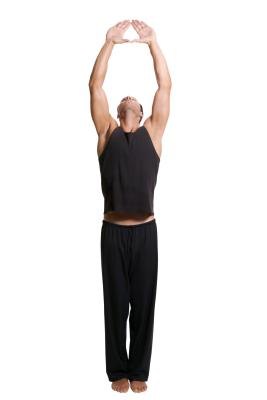 (Thinkstock Images/Comstock/Getty Images)
Stretching on the floor decreases stress upon your trapezius and spine, allowing you to focus more on the stretch without having to worry about balancing yourself while standing. Many exercises from yoga stretch the lower trapezius and nearby muscles, including Downward Dog, Seated Spinal Twist, Cat-and-Cow and Child's Pose. For each of these poses, hold the position for five to six deep breaths.
To do Seated Spinal Twist, sit on the floor with your left leg straight in front of you. Cross your right foot over your left knee and put it on the floor next to your left knee. Turn your torso to your left and put your right elbow against your inner right knee. Put your left hand on the floor behind you near your butt for support. As you push your right knee and right elbow against each other, you should feel a stretch in your right lower trapezius. Repeat the stretch on the opposite side.
Your trapezius doesn't work by itself since it shares many nerves and connective tissue with other muscle groups, including the back, shoulders, neck and even your chest and arms. When you move and stretch your lower trapezius from a standing position, you are also working on your core to maintain your balance and to improve body awareness and movement. Standing exercises include Sun Salutation, forward bend and fixed bar back stretch.
Sometimes the stubborn tissue in the lower trapezius won't relax no matter how much you try to stretch it. Using a foam roller, which is a light-weight cylinder made out of dense styrofoam, can decrease the tenderness of the trapezius. By placing your lower trapezius on top of the foam roller, you decrease neural stimulation upon the muscle fibers and connective tissues, allowing them to lengthen. This is like giving yourself a deep tissue massage. As you roll slowly and repetitively along the muscle, breathe deeply and do not place excessive pressure upon your spine. Keep rolling until the tenderness decreases or dissipates.
Stretch your entire back with your shoulders, neck and hips rather than just focusing on your lower trapezius. Sometimes the stiffness and discomfort really stems from another part of your body. If you still have chronic pain or tenderness in the lower trapezius, check with your chiropractor or other health-care provider before starting any exercise routine. A licensed massage therapist can provide relief to the area.
Promoted By Zergnet