The calf consists of two muscles in your lower leg: the gastrocnemius, the large, visible muscle in the back of your lower leg, and the soleus, which connects to your Achilles tendon. Both muscles are worked and stretched when you stand on your tiptoes. Plus, the soleus is working when you do squats or bend your knees. Athletes are vulnerable to painful calf strains, but calf walk stretches can help strengthen your calves and keep them healthy.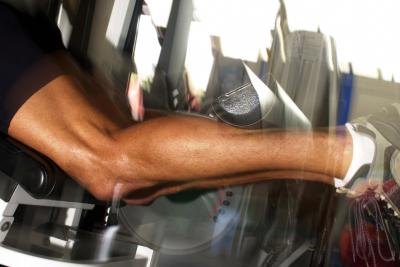 (Thinkstock/Comstock/Getty Images)
To perform this exercise, stand up on your tiptoes, keeping your heels roughly 2 to 3 inches off the ground. While standing on your toes, walk 15 to 20 steps forward, or more if it doesn't cause pain. This stretches and strengthens your calves, and it's an effective exercise to perform after walking or running during your cool-down. Never lock your knees or stand so high on your toes that you experience pain.
For this calf walk, raise your toes, and balance on your heels. Then walk 15 to 20 steps forward, and even more if you can do so comfortably. This exercise is tricky because heel walking can throw you off-balance if you're not used to it. Be sure you're on level ground, and do this one near a ledge or other fixture that you can grab if you begin to wobble. Like the tiptoe calf walk, this exercise is also appropriate for your cool-down.
Both calf walk exercises are examples of dynamic stretching, that is, stretching that takes place as you move your body. When performing a dynamic stretch, you do not hold one pose for an extended period of time. This is ideal for athletes because it strengthens the calf muscles without overexerting or straining them. Another dynamic exercise you might try is simple up-and-down heel lifts. Holding a stretch, called static stretching, can make the calves more vulnerable to injury; this is not recommended for athletes.
When your calf muscles are weak, they are more prone to injury in the course of walking, running or other exercise. If you get a calf muscle strain, it can cause discomfort in everyday activities like walking in a grocery store or across a parking lot. It's best to avoid calf walks if you get a strain because they can cause severe pain and slow the healing process. Instead, see a physical therapist to come up with a regimen of exercises that can help you get better.
Promoted By Zergnet