Ballerinas need to develop strong, flexible legs for dancing en pointe and leaping with grace, and the balance required for dancing, even walking, requires attention to your inner thighs. Your hip adductors extend from your inner groin down your inner thighs, and the abductors are on the outer thighs. If your adductors are weaker than your abductors, you can strain them. There are certain dance positions that act as the best stretches to target the inner thighs.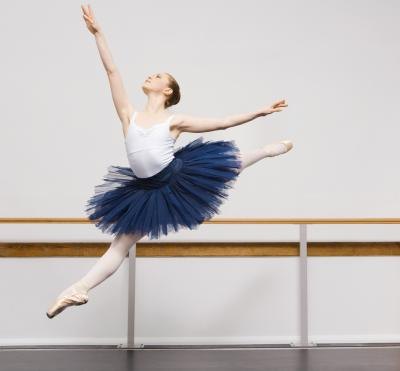 (Jupiterimages/Pixland/Getty Images)
A plié is like a squat with your knees and toes rotated out to each side of your body. Place feet slightly wider than shoulder-width apart with feet turned out. Rotate from your hips and thighs, not your knees and ankles. Bend the knees so they extend over your toes. Hold the plié for a count of eight, stretching the inner thigh, and slowly rise up. Repeat two more slow pliés of eight counts.
Tendus are small movements that require muscle focus. Start with heels together, feet flat and toes pointing outward in a line, which is referred to in ballet as "first position." Your feet should feel firmly planted. Starting with the left leg, brush your toes out to the side and back, extending your left leg back and forth. The movement comes from your hip and thigh as if you were stretching your leg. Simultaneously, lift up slightly with your opposite thigh to deepen the stretch of your inner thighs each time you brush your toes out and in. Complete 16 tendus on each side.
Battements stretch the inner thighs through sets of controlled kicks. Start in first position, standing with heels together and toes pointing outward in a line. Imagine pushing energy down your left leg and out your toes. When it reaches your toes, keep them pointed and sweep that energy out into a side kick, as high as you can without moving your upper body. This is a big movement that comes from the leg, but you'll need to hold your torso firm. Complete eight battements on each side.
In addition to increasing strength and flexibility in your inner thighs, ballet stretches can also tone your leg muscles. However, if you want slimmer thighs, you'll need to add cardiovascular exercise to your stretches to burn calories. Walking, biking and, of course, dancing can all add that necessary cardiovascular element. Ballet is an excellent workout, and many studios offer nonperforming classes for adults who are looking for a different mode of fitness.
Allison Mills; Dance Instructor; Missoula, Montana
Promoted By Zergnet