Yoga has been practiced for at least 5,000 years for its numerous physical, mental and spiritual benefits. A complete yoga practice involves three main components: physical stretches and postures, also known as asanas, meditation and breathing exercises. In addition to the physical and mental benefits of stretching, the yogic practices of meditation and breathwork may help improve your overall sense of well-being and promote inner peace.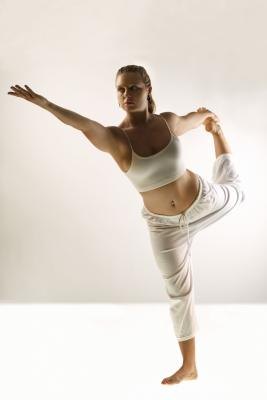 (Jupiterimages/Photos.com/Getty Images)
Many people practice yoga to increase flexibility and improve their range of motion. Improving your range of motion means that your muscles and tendons can move with increased ease and decreased pain and stiffness. A study published in the Fall 2001 issue of the journal "Preventive Cardiology" showed that healthy subjects who engaged in a regular yoga practice for eight weeks experienced noticeably improved flexibility and range of motion in their ankles, spines, shoulders and hip joints. The researchers hypothesized that the improved range of motion may be due to the static nature of yoga poses. This means that by holding the poses for extended periods of time, you help increase the length of your connective and muscle tissues, thereby improving flexibility.
By holding yoga poses for longer periods of time, you also push your muscles to support the weight of your body. This helps build lean muscle mass and increases overall strength. So instead of using free weights, resistance bands or machines to build strength, you use your own body weight for resistance. Certain yoga balancing poses, such as Tree or Scale, also help improve muscle strength because you need to use significant muscle control to avoid falling over. Unlike weight training, which usually focuses on a specific muscle group at a time and can lead to a bulky appearance, a complete yoga practice improves strength and tone in your entire body through eccentric contraction, which promotes a leaner, more elongated appearance.
Decreasing stress and muscle tension and increasing feelings of relaxation are some of the key mental and physical benefits of yoga stretching. Focusing on specific postures might take your mind off your worries and concerns, at least temporarily. Yoga also helps you cultivate an attitude of mindfulness, which can also help alleviate symptoms of stress. Mindfulness involves focusing on the present, accepting your experiences and developing insight and awareness. A study published in the 2009 in the journal "Behavioural and Cognitive Psychotherapy" showed that study participants who practiced yoga for eight weeks experienced a significant increase in overall mindfulness and awareness. The researchers hypothesized that increased mindfulness may help prevent negative emotional states such as anxiety or depression.
If you suffer from chronic insomnia or have occasional difficulty falling asleep, yoga stretching might be the answer you've been looking for. Yoga helps calm your mind and slows down your sympathetic nervous system, the part of your central nervous system responsible for arousal. A study published in the December 2004 issue of the journal "Applied Psychophysiology and Biofeedback" examined the benefits of an eight-week yoga practice in people who experienced chronic insomnia. The participants were instructed to keep a sleep-wake diary, which measured factors such as total sleep time, total wake time and number of awakenings. After the eight-week period, 20 participants who completed the training reported significant improvements in all measures.
Promoted By Zergnet