Even if you don't work out, protein shakes can help you lose weight if they contribute to creating the calorie deficit you need to start shedding extra pounds. Incorporating protein shakes into a healthy diet plan can also help you achieve weight-loss goals by suppressing your appetite and curbing food cravings. On the other hand, protein shakes can actually sabotage your diet if you drink them in addition to meals and snacks you usually consume throughout the day, according to Mayo Clinic nutritionist Katherine Zeratsky.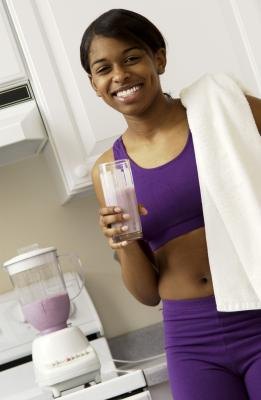 (Liquidlibrary/liquidlibrary/Getty Images)
Reading protein shake nutrition labels can help you determine which ones are best for your personal dietary needs. The most common protein sources are whey, casein, soy and egg, typically available in powdered form or ready-to-drink cans. To lose weight, nutritionist Kathleen Zelman recommends avoiding shakes with a high sugar content that can promote fat storage. She suggests choosing ones that contain complex carbohydrates, moderate amounts of protein and small amounts of sugars and fats.
Substituting high-calorie or fatty foods with shakes that have more protein than carbohydrates can prevent blood sugar spikes, boost energy levels and help keep you feeling full so you'll be less likely to overeat, according to dietitian Julie Metos. The American Heart Association explains that even taking off a few pounds and maintaining a healthy weight can provide cardiovascular benefits and help prevent adverse conditions associated with obesity such as heart disease, stroke, high blood pressure and diabetes.
The average adult needs 46 to 56 grams of protein a day, according to the Centers for Disease Control and Prevention. The CDC also recommends that protein sources make up 10 to 35 percent of your daily caloric intake. A dietary imbalance caused by not consuming enough protein and eating foods with a high carbohydrate, fat and calorie content can lead to weight gain. If you want to lose weight without a lot of exercise, you can replace or supplement meals with protein shakes that are lower in calories but still contribute to providing personal daily requirements for protein and other essential nutrients.
To maintain intake of essential nutrients while dieting, sport performance specialist Shannon Clark suggests including protein shakes in a well-balanced menu plan along with lean protein sources such as skinless chicken or turkey breast, fish, egg whites and low-fat yogurt. To burn more calories than you consume and lose weight faster, MayoClinic.com recommends engaging in daily physical activity. Before starting a new diet, consider health concerns. Consult a health care provider to determine a healthy weight-loss goal.
Promoted By Zergnet