The ankle is one of the smaller joints in the human body, but one that is constantly stressed. With each step you take, your ankle must support your body weight and help propel you forward under significant pressure. Stretching and strengthening the ankles can help prevent and heal muscle strains, sprains and tears -- all common forms of ankle injuries. Ankle-stretching equipment can be used to perform a variety of exercises.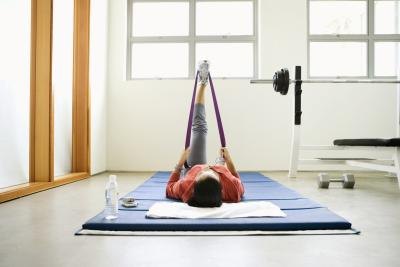 (Siri Stafford/Digital Vision/Getty Images)
Resistance bands are a portable and highly effective form of stretching equipment for the ankles. The bands are made of rubber in varying levels of elasticity to provide added challenge and resistance as you stretch. Loop a band around the sole of your foot, grasp one end in each hand firmly as you practice gas pedal or extension stretches. Extend you foot as far down as you can, pointing your toes, and then lift up. You can also use a towel as a substitute. To perform dorsiflexion exercises with the stretching equipment, tie the band around a chair leg. Sit across from the band and loop it around the top of your foot. Flex your foot up with you toes pointing toward the ceiling and release. Complete 10 repetitions of each exercises with both feet.
Wobble or balance boards help strengthen the ankles. The boards are flat on one end and are fitted with a curved plane on the bottom. As you perform exercises on the board, the muscles around your ankles are stretched as you shift your weight to balance. Depending on your level of skill and if you have sustained an ankle injury, you may be told by your fitness instructor to sit in a chair with your feet on the board or to stand on the board itself. Balance board exercises for the ankle include rotating the board in each of the four directions -- think of a compass with North, South, East and West -- for a number of repetitions to increase range of motion in the joint. If you can stand on the board without falling, see how long you can balance first with your eyes open and then closed. Knee bends on a wobble board also stretch out and strengthen your ankles and their supportive tissues.
Steps, either in a staircase or in stand-alone form, can be an effective form of ankle stretching equipment. People who have suffered ankle injuries often must stretch and strengthen their calf muscles as part of rehabilitation. Balancing on a step stretches the calf and strengthens the ankle at the same time. Stand with your toes on the step and drop your heels down off the step. This exercise may be easier to complete on a staircase because there is more space between each step than a stand-alone step and the floor. Alternatively, if using a stand-alone step, place your heel on the floor, prop the ball of your foot on the step and point your toes in the air to get a good stretch. Regardless of your method, hold the stretch for 20 seconds.
Don't forget about the most natural ankle stretching equipment you have: your hands. Although other forms of stretching equipment can contribute to a higher level of flexibility and strength, sometimes these gadgets are not available. Using your hands in the place of a resistance band or towel can be an easy substitute that helps you get a deeper stretch regardless of where you are. For example, when flexing your foot upward, apply pressure -- the University of Illinois McKinley Health Center calls it "overpressure" -- to the ball of your foot to nudge your ankle a bit further. Similarly, press down on the top of your foot when performing an ankle extension to stretch the ankle and its associated muscles and tendons more.
Promoted By Zergnet