Breathing is an important part of your day. Without it, you would not be alive long enough to endure the lower-back pain associated with a tight serratus posterior inferior muscle or two. This small but mighty muscle sits in your lower back and connects your spine to your lower ribs. When you inhale, it depresses your lower ribs, opening up your diaphragm. As you can see, this is a very important muscle. Stretching the serratus posterior inferior releases tension, increases flexibility and reduces pain. This combination not only reduces back pain, it keeps you breathing easily.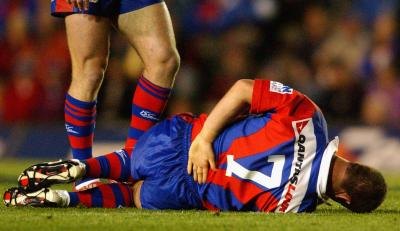 (Chris McGrath/Getty Images Sport/Getty Images)
Like all humans, you likely have two sets of 12 ribs for 24. The lowest four ribs on either side of your back connect to the spine with a serratus posterior inferior muscle. This location requires a stretching movement not found in the majority of stretching routines. Over time, the muscle will become tense and rigid. This can lead to problems in the mid to lower section of your back and reduce the efficiency of your breathing, especially when taking a deep breath.
When these muscles get strained, they cause pain and discomfort in the lower portion of your back. This pain often results from muscle tightness. Stretching the muscles will relieve the tension and potentially reduce your lower-back pain. The problem with this pain is it resembles kidney pain. Since both pains sit in a similar location, and feel similar, it is difficult to distinguish one from the other. Consult your doctor before embarking on a stretching routine. This will rule out kidney issues and ensure you are healthy enough to start stretching.
After you meet with your doctor, you need to add some healthy behaviors to your life. Smoking, unhealthy eating and obesity all affect your serratus posterior inferior muscles. Stopping these bad habits before you begin stretching will not only make your stretching more effective, but it will increase your overall quality of life. Just cutting out sugary drinks and snacks will start you on your way to a healthier life.
A foam roller places you in the correct position to stretch your serratus posterior inferior muscles. To perform the stretch, lie on your side with the roller sitting just below your pectoral muscles. Stretch your arms over your head, lock your hands together and lower your hands to the floor. This position will feel a bit awkward, but hold it for 10 to 15 seconds. Repeat the stretch on your other side. Do the stretch five to 10 times per side. Often, other muscles require flexibility including the muscles of your core, upper back and chest. Include these in your stretching routine to balance your whole body.
Promoted By Zergnet