Pilates is credited for helping people achieve a lean body that resembles a dancer's. However, it is a fallacy that Pilates actually lengthens muscles. What it really does is assist the lifting and toning of major muscle groups, such as the thighs, to give the appearance of a leaner line. It is important to continue cardio work when embarking on a Pilates program, as you cannot spot reduce fat on any area of the body. You must train your entire body to change your overall physical appearance.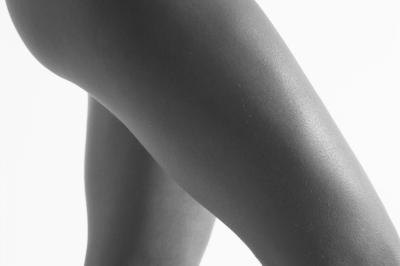 (Hemera Technologies/AbleStock.com/Getty Images)
Pilates inner thigh work was developed to tone the inner thigh area while helping stabilize the core. The three exercises that make up the classic mat workout for inner thighs are the one-leg circle, the inner thigh lift and side kicks. It is important to keep your abdomen engaged -- bellybutton pulled in towards the spine -- when performing Pilates inner thigh work. Lie on your right side to begin. Prop your head in your right hand, bend your left knee and place your left foot on the ground in front of your pelvis. Lift your right leg a few inches off the ground. Pulse for 15 reps. Repeat for the other leg to create long, envy-worthy thighs.
People who have spent years running, walking on a high treadmill incline or doing workout routines like the Bar Method may have developed bulky thighs. This is the result of overworking the major muscles of the legs while the pelvis was not in proper neutral alignment. Neutral pelvis is the key to gaining long muscles and is thus an important fixture in Pilates classes. The best way to get your pelvis in neutral position is to first lie on the floor with your knees bent. Rock your pelvis towards your feet; this creates an arch in your back and places your pelvis in anterior tilt. Now, rock your pelvis towards your chest, lifting your butt slightly off the floor. This is the posterior tilt. The place in the middle of both tilts is neutral pelvis, where the abdomen is slightly pulled in but the sacrum is firmly placed on the floor.
The Pilates side kick series, one of the original sets of exercises developed by Joseph Pilates, is designed to work your outer and inner thighs at the same time. This collection of exercises, which includes leg lifts, ballet moves and stretches, firms the major muscles of the legs and helps develop increased flexibility in the joints of the hip and in the hip flexors. Lie on your right side, head propped in your right hand with your legs long and feet slightly turned out in Pilates first position. Flex your left foot and raise it towards the ceiling. Do not lift it higher than hip height. Point your toe to the front and lower your leg back towards the floor. Perform 20 reps and repeat on the other side. Since you need to use your core to keep yourself stable during the exercise, you will also work your ab muscles.
No workout routine can effectively improve your body unless you eat a proper diet. Start by reducing your consumption of salt, sugar and processed foods, while boosting your intake of fresh fruits and vegetables, whole grains and lean proteins. Drink at least eight glasses of water each day to help flush toxins from your body and to keep your body hydrated. Eating five small meals a day has been shown to help rev a sluggish metabolism.
Promoted By Zergnet