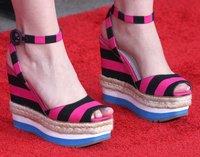 You can safely wear wedges on a number of occasions, as these terrific clunkers can replace almost any pair of slippers, sandals, flip-flops or stilettos depending on where your feet take you. Look hip and current by taking your wedge-wearing feet to all the right places.
Go Shopping in Wedges
Wedges are terrific walking shoes, conducive for the most unrelenting walking activities, which includes a girl's favorite pastime -- shopping. They are one of the most ergonomic foot contraptions you can find next to a pair of sneakers. This fact may vary however, based on the styles you choose plus the height and shape of the heel. Stick with light strappy designs that allow your feet to move easily, such as thong styles with ankle straps. The heel should be lightweight and preferably with a single platform design.
Wear Wedges to a Daytime Party
Wedges are appropriate for daytime occasions such as showers, teas and banquets. The common dress code for such events -- sun dresses, flowy skirts, shorts and flared capris -- complements a cool pair of wedge shoes. Go for shoe styles that have an airy look to them, those with straps or bands or a combination of the two. Peep-toe and closed-up designs are also acceptable, just keep the colors light and feel free to play with patterns.

Hit the Town in Wedges
Whether on a date or out with friends for the evening, in wedges you'll be prepared for a long stroll, dinner and a movie, or late-night clubbing. Pair them with a dress or skinny jeans and a chic top. Take note however, fitted dresses, pencil skirts and calf-hugging pants paired with clunky wedges aren't good looks, especially if you're slim built.
Travel in Wedges
Comfort is one of the key elements while traveling, and that's what you get when wearing the right pair of wedges. The shoes allow you to move freely and stay on your feet for as long as you need to, whether walking or standing. Comfortable styles are those that are lightweight -- shoe and heel combined -- and of moderate height. Casual, soft leather booty styles are good as are strappy sandal designs.
Consider Wedges for Church and Work
Some women think twice about wearing wedges to church or work, but there is nothing wrong with this so long as you select a more conservative style. Look for a closed-toe design with color uniformity on the heel and top of the shoe, and a heel of moderate height. Suede and patent leather are particularly suitable choices.