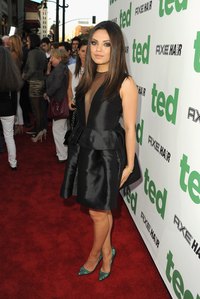 Teal heels can brighten your wardrobe no matter the season or the occasion. Once you figure out the right clothing and colors to pair with your heels, you can create a look that's original and appropriate for any occasion, whether it's work or date night.
Weekend Casual
Teal heels can be mixed with other bright colors in your wardrobe to create a fun, casual outfit. Stick with one bold color, one bright and one neutral until you master color mixing. Try jeans with a tapered leg in gray (neutral) with a yellow top (bright) and your teal heels (bold). Once you're feeling adventurous, go for a full color-block effect with your separates. Pair your teal heels with bright blue skinny jeans and a purple top.

Night Out
Try teal heels with different colors and prints for a fun night out outfit. If you want to stick with separates, pair a miniskirt in a graphic black and white print with a solid colored tank in a bright color. Bright purple or cobalt blue will work with your teal heels. For one-step dressing, choose a graphic print tank dress and top it off with a cropped leather jacket.

Work Wardrobe
Teal heels are sure to turn heads on their own, so stick with basic clothing in neutral colors if you work in a conservative work setting. Try teal heels with a black pencil skirt, ivory or white button-down and blazer. Just be sure your heels are work appropriate (no higher than 3 inches). If you work in a creative environment that has a casual dress code, try pairing your heels with a floral skirt that has teal or a similar color running throughout the print. Top it off with a blouse in hues that won't compete with your heels. Think navy, ivory or blush.

Date Attire
For a daytime date, couple your teal heels with a sundress and a cardigan or loose jeans and a fitted T-shirt. If you opt for jeans, roll up the cuffs to showcase your heels. If it's a date night, choose a little black dress that acts as a neutral backdrop that will let your teal heels shine.