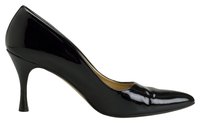 Black leather shoes should be a staple in any woman's closet. A black leather shoe has a versatility that complements any type of formal attire. A patent black leather shoe, made with a glossy material, adds glamour to an outfit. Black shoes are favorable accessories for formal events such as weddings because they match with various styles, patterns and fabrics.
Standard Pumps
To adhere to the glamour of a formal wedding, pumps with stiletto heels of 2 inches or higher are appropriate. If wearing a cocktail dress or formal suit, try a stiletto with a pointy toe, which will slim the calves and enhance their shape. A shoe with a chunky heel diminishes the formality of an outfit, giving it a casual vibe. The chunky heel also makes legs look shorter and thicker. Closed-toe pumps can be worn during all seasons but work best at winter weddings.
Peep-Toe Pumps
Peep-toe pumps are suitable for a formal wedding and may be worn instead of the standard pump. These shoes are best for a spring or summer wedding but can be worn in the fall or winter with stockings. A cocktail dress or formal suit complements this style shoe as well. The shape of the shoe slenderizes the foot, and it is flattering for all leg types but especially for heavier legs, because of its slimming effect. A nice feminine touch may be to complement the black shoe with a bag in the same color with plain or patent leather material.
Peep-Toe Slingbacks
Give formal wear a playful appeal by wearing a peep-toe slingback shoe, which has a small opening in the toe and a strap around the back of the ankle. The heel should be slender and no less than 2 inches, as it is a formal event and will be worn with a cocktail dress, gown or suit. Shorter heels are more appropriate for a casual occasion. These shoes accentuate both thin and heavy legs. Add more playfulness to the shoe by using a clip-on accessory that can be fastened to the front of the shoe in designs such as a flower or rhinestone.
Strappy Shoes
A strappy shoe provides a sexy approach to formal wear and may be worn to an indoor or outdoor wedding. It is also ideal for a spring or summer wedding. These shoes fit slender feet best because they tend to be made narrow. Ladies with wider feet should not avoid strappy shoes completely, but they should check if the shoes come in a wide width. A strappy shoe is classy enough to wear with a cocktail dress, gown or pantsuit, and looks glamorous when accessorized with french-manicured toes.