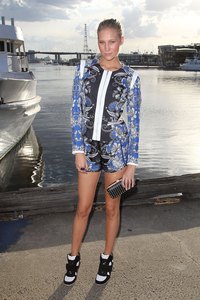 When you begin hearing the term "high tops" in reference to fashion, you know a resurgence in these sneakers with tall ankle heights is underway. Whether you wore them during past trends or have never before considered it, figuring out how to style high-top sneakers can present quite a challenge when you're used to more classic options. High tops happen to work with many types of looks, so clear your mind of preconceptions and create a personalized style.
Utilitarian and Sporty Looks
One chic way to wear high tops is with styles that easily lend themselves to the already athletic appearance of sneakers. From utilitarian looks, such as cargo pants and zipper jackets, to American sportswear -- think chinos, a T-shirt and a blazer, high tops complete the look. Visualize yourself in a black hoodie, a pair of charcoal rip-stop nylon pants rolled a couple of times at the ankle and a pair of extremely athletic looking high-top sneakers fitted with a Velcro strap or two. Perfect.
With Denim
Denim is the ultimate shape-shifter. Wear a light denim shirt and dark blue slim jeans with a pair of cowboy boots and you immediately take on a Western vibe. Wear the look with sleek gray boots and a black beanie, and you're suddenly very urban chic. For a more relaxed, casual vibe, wear skinny denim jeans with Velcro-strapped high tops. Swap out the denim top for a sweater or T-shirt, and as long as you're still wearing a pair of slim jeans, the look works.
In Place of Boots
When your go-to shoes are a pair of black boots because they go with everything and give your ensemble a slick, finished look, trying to step outside that box without straying too far can feel difficult. Whether your boots are cramping your feet or your ability to expand your style, take baby steps by replacing them with a pair of black high-top sneakers. You'll achieve the same look, only with a more laid-back, toned down vibe.
Shorter Hemlines
High tops may give you the impression that you need to wear a pair of pants to balance everything out, but a shorter hemline is actually helpful when creating your outfit's proportions. High-top sneakers can tend to create a lot of bulk on your feet. Rather than adding extra volume to your legs, wear shorts, a dress or a skirt, as long as they don't go any shorter than mid-thigh. With shorts or a skirt, throw on a tank or a T-shirt for a relaxed look.